Monument of Victory in Dushanbe.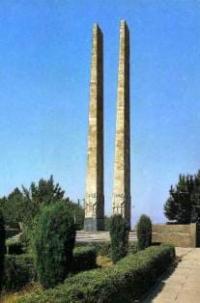 Tourism in Dushanbe.
"After the victory, tighten the straps on the helmet."
Japanese proverb.
Great Silk Road Central Asia and Tajikistan.
The Victory Monument is located on the square of the same name in the city of Dushanbe, located in the center of the square, located at the intersection of five city highways - Shyraze and Academician Radjabov Avenues and Academician Nazarshoev, Aini and Shevchenko streets in the Central District of Dushanbe.
In honor of the Victory of the Soviet Union in the Great Patriotic War from 1941 to 1945, a monument was erected on Victory Square. The Victory Monument was built in 1968. The authors are sculptor G. Cherednichenko and architect G. Solominov.
Victory Square is located in Dushanbe and is one of the cultural complexes of the city. Two steles made of reinforced concrete, lined with red granite marble tiles, shot up to a height of 25 meters like steel blades.
The lower part is decorated with bas-reliefs depicting the events of the Great Patriotic War.
Nearby, on a pedestal, an IS-2 tank was installed in honor of the workers of the republic. It was at their expense during the war years that the tank column "Collective Farmer of Tajikistan" was created, which participated in the Battle of Stalingrad.
There is a green square next to the monument. The Victory Monument is a constant participant in the events on the occasion of the anniversary of the Great Victory. At its foot, wreaths are often stacked, brought by both ordinary citizens and official delegations.
A few blocks away from the monument and the square are local attractions such as the Aini Opera House, Rudaki Square and the city hippodrome.
Geographic coordinates of Victory Square in Dushanbe: N38°33'46.14" E68°47'09.53"
Authority:
Tourist guidebook on monuments of Dushanbe. 2012.