Monument to S. Aini and M. Gorky in Dushanbe.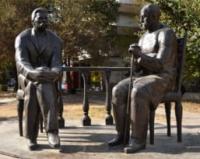 Cultural places of interest in Dushanbe.
"The greatness and knowledge of a person are not measured by his height and the size of a turban. Those mullahs who do not know anything wind the longest turban around their heads so that the ignorant think that this is a big mullah. And the wise, real scientists wear a small turban: their greatness is in their knowledge.
Aini Sadriddin.
Tajikistan private tour. 
Monument to Sadriddin Aini and Maxim Gorky in Dushanbe is installed in the southwestern part of the House of the Union of Writers of Tajikistan on the north side of Ismail Samani Avenue. Sadriddin Aini and Maxim Gorky - classics of Russian and Tajik literature of the Soviet period, lived at the same time, and met repeatedly during various literary events.
It is also known about the influence of Aini's work on some of the works of Maxim Gorky, as indicated by the conclusions of literary historians. The monument is a sculptural composition depicting two writers sitting next to each other on chairs and talking leisurely.
In the background, a small fragment of the fence is depicted, which completes this sculptural group. Along with decorative panels that show a galaxy of Eastern writers led by Omar Khayyam, the monument "Sadriddin Aini and Maxim Gorky" adorns the territory adjacent to the House of Writers.
Geographical coordinates of monument to M. Gorky and Sadriddin Aini in Dushanbe: N38°35'01.05" E68°46'58.71"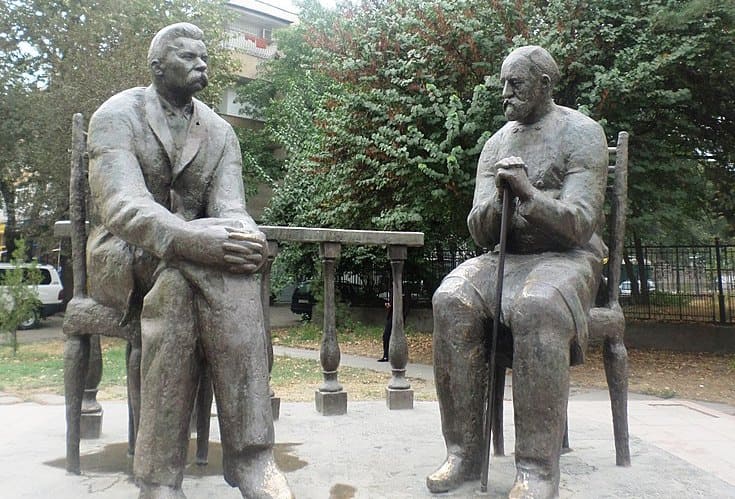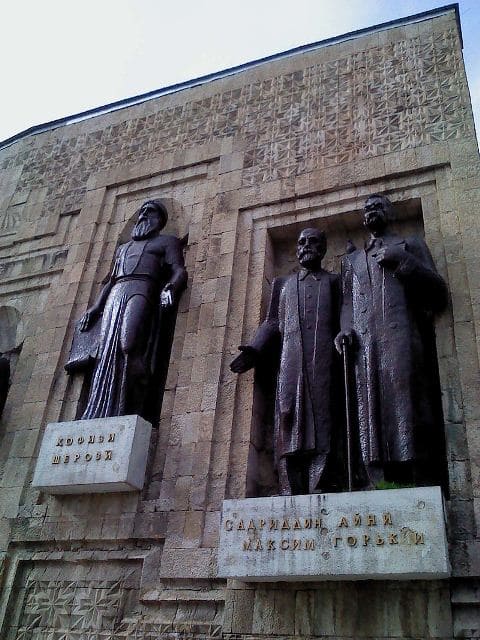 Authority and photos:
Tourist guidebook on monuments of Dushanbe. 2012.
Photos by:
http://shaitanarba.narod.ru/photoalbum22.html