Monument Rudakhi in Dushanbe.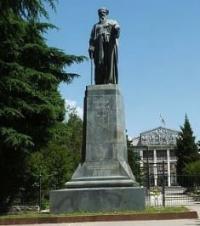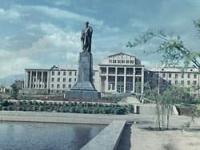 Individual excursion tours over Dushanbe.
"He died. Shahid's caravan left this mortal world.
Look, and he dragged our caravans after him.
Eyes, without thinking, will say: "There is one less in the world,"
But the mind sadly exclaims: "Alas, how many are no more!"
Abulhasan Rudaki.
Cultural tours over Dushanbe.
Monument to Rudaki is located in the park named after Rudaki, on the south side of the building of the Tajik Agrarian University located on the east side of Rudaki Avenue and west of Omar Khayam Street.
The monument was erected in 1964, rises on a pedestal.
The memory of the writer was immortalized in metal by the sculptor F. Abdurakhman, the granite pedestal was built according to the project of the architect M.A. Useinova. The material chosen for the statue was bronze.
Rudaki is considered the founder of Persian-Tajik literature, the founder of poetry in Farsi. He became famous early as a singer and rhapsodist and author. Being, according to legend, blind from birth, he received a good education, knew the Arabic language.
For over 40 years he headed a galaxy of poets at the court of the Samanid rulers of Bukhara, achieving great fame and fortune. Shortly before his death, he was exiled and died in poverty.
Geographical coordinates of Rudaki monument near the Agrarian University in Dushanbe: N38°36'35.05" E68°47'12.72"
Authority and photos by:
Tourist guidebook on monuments of Dushanbe. 2012.