Monument Mironenko in Dushanbe.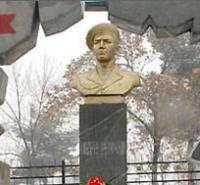 Sculptural monuments of Dushanbe.
"For real, we only remember what we forgot"
Gilbert Keith Chesterton.
Monument to Alexander Mironenko in Dushanbe. 
Monument to Alexander Mironenko was erected in the park named after Alexander Mironenko in the square of streets and avenues, between Rakhimi, Mayakovsky streets and Abuali ibn Sino and Saadi Sherozi avenues to the north of the 14th microdistrict in the city of Dushanbe.
Monument to the hero-"Afghan" (participant in the Afghan war) Alexander Mironenko, Hero of the Soviet Union. The square is 400 meters long and 150 meters wide. The creation of the square was associated with the perpetuation of the memory of the soldier Alexander Mironenko, who died in the Afghan war and received the posthumous title of Hero of the Soviet Union.
The monument is installed on the central alley and is a rectangular slab. Against the background of the opening of the slab, on a high pedestal, there is a bust of a soldier A. Mironenko in a peakless cap. At the foot of the slab-wall there are commemorative plates with the names of the dead citizens of Tajikistan.
The territory of the square is landscaped, equipped with paths, benches and a swimming pool. Planted various samples of trees and bushes, flowers.
Alexander Mironenko, Russian by nationality, was born on October 20,
He dreamed of being a builder, participating in the construction of large objects and residential buildings in the republic, so he went to study at a construction college, which he successfully graduated from. He was fond of sports, was a good boxer. In 1978, at the age of 19, he was called up for service in the Soviet Army.
He passed it as part of units sent to the Democratic Republic of Afghanistan to provide international assistance. In one of the battles, the deputy platoon commander of the reconnaissance company of the guards airborne regiment, senior sergeant Alexander Mironenko, accomplished a feat for which he was posthumously, on April 28, 1980, awarded the title of Hero of the Soviet Union.
A Dushanbe resident, surrounded by dushmans, blew himself up and his enemies with a grenade. Forever enlisted in the lists of one of the military units.
Geographical coordinates of monument to Alexander Mironenko in Dushanbe: N38°33'47.23" E68°45'00.89"
Authority and photos by:
Tourist guidebook on monuments of Dushanbe. 2012.
Vladimir Frolov. « The hero from Dushanbe Alexander Mironenko. Tajikistan celebrates veterans of the Afghani war. 2.19.2009 «20-th anniversary of a conclusion of the Soviet armies from Afghanistan. The newspaper "The Courier of Tajikistan ". http://www.centrasia.ru/newsA.php?st=1235043000