Monument Avisenna in Dushanbe.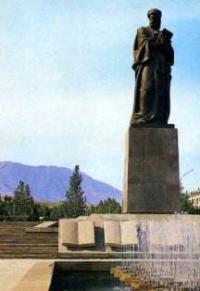 Historical monuments of Dushanbe.
"From the height of the monument, sometimes you can't see those laying flowers"
Tamara Kleiman.
Monuments of history in Duhsnabe.
The monument to Abuali ibn Sino is located in the northwestern part of Dushanbe, on Abuali ibn Sino Avenue opposite the National Medical University in Dushanbe. Initially, the monument was located on Abuali ibn Sino Square, but after the construction of a road interchange at the intersection of Ismail Somoni and Abuali ibn Sino avenues, the monument was moved to the Medical University.
The monument on the square was erected in 1980 on the 1000th anniversary of Avicenna. The authors of the architectural monument are Azerbaijani sculptor Omar Gasan oglu Eldarov and Tajik architects R. Karimov and A. Agaronov.
In the whole integral architectural and sculptural composition of the square, a tall bronze figure of the scientist Abuali ibn Sino (about 6 meters high), depicted in a thoughtful pose, stands out. The figure of Avicena holds a book in her hand, which symbolizes the mind of a sage and the constant desire for knowledge.
Avicenna is known for many works - he wrote more than 450 materials in 29 areas of science (medicine, chemistry, astronomy, mechanics, philosophy, criticism, psychology, literature, music), of which 274 documents survived.
At the foot of the monument, five open books carved from granite symbolize the result of many years of research and creative work in the field of medicine, poetry, mathematics, music and philosophy. To enhance the solemnity of the complex, the ensemble includes several pools with gushing water.
Two pools, somewhat unusual in terms of plan, are located on the upper platform behind the figure of Avicenna. Low marble benches frame the pools on three sides, being an additional fence for the upper platform. Dense greenery, enveloping the ensemble from the north, became an excellent color background for the sculpture of Abuali ibn Sino.
Geographic coordinates of monument to Abuali ibn Sino in Dushanbe: N38°36'06.29" E68°47'10.16"
Authority and photos by:
 Tourist guidebook on monuments of Dushanbe. 2012.