Mausoleum of Kabanbai batyr near Kyzylzhar.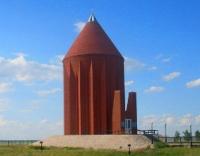 Sightseeing tours of the cities of Southern Kazakhstan.
"They love their homeland not because it is great, but because it has its own"
Seneca Lucius Anney.
Sights of the cities of Kazakhstan.
On November 3, 2000, on the site of Saryadar in the village of Kyzylzhar, the mausoleum of the famous batyr was opened at a historical site. The 25-meter mausoleum is built in the shape of a military helmet - the strict forms of the ribbed walls only emphasize the aspiration upward.
The mausoleum is located 38 kilometers south of Nur Sultan and 6.55 kilometers northeast of the village of Kabanbai batyr. Kabanbai batyr died three kilometers from the hill where the mausoleum is now located.
From ancient times, Kazakhs buried great people in the hills so that from afar they reminded people of themselves, strengthening their faith and spirit. At the burial place of the batyr a 25-meter-high mausoleum is installed.
The mausoleum resembles the shape of a military helmet. The strict forms of ribbed walls are ideal, resolved, emphasizing the aspiration upwards of the entire red-brick mausoleum. The monument is crowned with a metal crescent. Kabanbay - he went straight into focus at the enemy, not turning his head, not taking his eyes like a wild boar.
Units under his leadership defeated the Dzungars and saved the Kazakh people from extermination. The hero died at the age of 78, at the hands of a young dzhigit.
Authority:
Guidebook to Astana.