Mausoleum of Bektemir Sufu.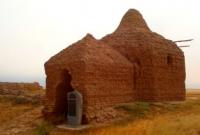 The best sights in the Akmola region.
"If you are faithful, follow the path of the prophet to Allah
If you hear their name, worship and praise them.
Try the fate of the destitute and unhappy, learn from them.
Become a support for the unfortunate and crippled, understand them"
Hikmet Khoja Ahmed Yasavi.
Holy places of Akmola region.
The Bektemir Sufu Mausoleum is located on a hill in the Kokkol tract in the Egindykol district of the Akmola region. Mazar Bektemir Sufu is a unique monument of religious architecture of the XVII - XIX centuries. Bektemir Sufu was a religious preacher.
After death, a mazar was installed in his honor. A narrow corridor with an overlap in the form of a three-bladed arch leads inside the octagonal mausoleum. The grave itself has not been preserved. The mazar trees grow, people who come to the mazar, tied on the branches of white shreds of fabric.
Sufism is Islamic mysticism (derived from the word "wool", or "woolen clothing for doctors") and was widely used in the 7th century. There is another meaning of the word "Sopyl", for example, the word sufamennaya suffa is a place for reading namaz, from the word "pure", from the Greek "wisdom", etc.
According to the Sufis, God is the meaning of life. The unity of God and man is the key to life.
Authority:
Popular Legend. Materials of the study of historical and cultural monuments of the Akmola region by the Department of the Code of Scientific and Practical Research of the RSE "Kazrestavratsiya", 2006 Kamalova. http://srh.kz/content/mavzoley-bektemir-sufu/