Ushauyz ridge on Mangyshlak.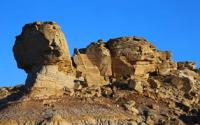 Mountains on territory of Kazakhstan.
"I believe that there are neither heights nor depths that a person with the help of Reason could not reach."
John Hunt.
5 amazing mountains of Kazakhstan.
Ushauyz Mountains are located in the most northwestern part of the Northern Aktau Range, are located in the north-eastern part of the Mangyshlak peninsula, 2 kilometers south of the southern coast of the Koshak Bay, west and north-west of the Myrzatai mountains, north of the Yemdy mountains in the Mangystau region of the region of the same name.
he small mountains of Ushauyz stretch from the southeast to the northwest for 5.3 kilometers, their width is also small and reaches only 3 kilometers in the southeastern part. The mountains on the northern and northwestern sides resemble a chink plateau that rises to the south.
Between the long ravines Shyldyr and Karakabak, which stretch from the southeast to the northwest, and the southern, southwestern slopes of the Ushauyz ridge lies the Karasai valley. The Karasai Valley begins in the southeastern part of Mount Tobekudyk, 245.3 meters above sea level, and stretches for 20 kilometers to the southern coast of Koshak Bay.
To the north-east of the Karasai valley, the Akespe ravine stretches, which soon turns north and divides the Ushauyz and Myrzatai mountains into two separate parts. The highest elevation in the range, in the southeastern part, is an unnamed mountain 200.5 meters high above sea level.
The next highest mountain is Ushauz, 183.6 meters above sea level, located in the northwestern part of the range. The northern slopes of the ridge descend to the southern coast of the Koshak Bay. The surface of the Ushauyz mountains looks like a wavy plateau with remnant peaks preserved in some places.
The plateau resembling an irregular triangle is indented by numerous ravines-says, which have steep, sometimes sheer slopes. The relief of the ridge is very complex, stretching several rows of low ridges with steep southern and gentle northern slopes.
Geographical coordinates of Ushauyz ridge on Mangyshlak peninsula: N44°28'51.81" E51°29'17.39"
Authority and photos by
Alexander Petrov.