Stadium Olympic in Ashgabad.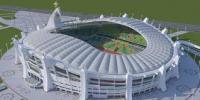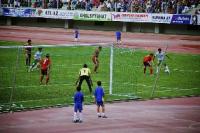 Deluxe Level Visits  in Ashgabad.
"The objective I propose is quite simple to state: to foster the infrastructure of democracy - the system of a free press, unions, political parties, universities - which allows a people to choose their own way to develop their own culture, to reconcile their own differences through peaceful means"
Ronald Reagan.
Book Turkenistan Tours.
Olimpiс stadium of a name of Great Saparmurat Turkmenbashi (turkmen Saparmyrat Türkmenbaşy adyndaky Olimpic stadiony) - the multi-purpose stadium in Ashgabad opened in 2001 and which existed 12 years.
The new stadium "Olimpiysky" constructed in 2016 is at its place now. The stadium was used generally for holding governmental activities, concerts and football matches. The stadium accomodated 35000 people.
It is built in 2001, the international technical company "Mensel JV". Despite the name, stadium it was not constructed as a part of the application for holding the Olympic Games. The football field conformed to the international standards, on it the special grass cover was grown up, the irrigation system functioned.
Eight racetracks 400 meters long were covered with modern synthetic material of red color. The field and platforms for track and field athletics conformed to standards and requirements of FIFA and IAAF.
In 2007 the government made the decision to reconstruct stadium and to increase number of seats. In 2013 the stadium was completely dismantled within construction of a complex of "The Olympic town" for holding Asian games in rooms of 2017 then on its place construction of new stadium "Olimpiysky" began.Saparmurat Turkmenbashi Olympic Stadium (Turkmen: Saparmyrat Türkmenbaşy adyndaky Olimpiýa Stadiony) is a multi-purpose stadium in Ashgabat, Turkmenistan, that stood on the site now occupied by the New Olympic Stadium, which is being built from 2013 until 2017.
The stadium holds 30,000 people and was built in 2003. Despite the use of the name "Olympic Stadium" the facility was neither built as part of a bid to host the Olympic Games, nor has it been used in such games.
In 2007 the Turkmen government decided to reconstruct the stadium and to enlarge it. The new arena will hold up to 45,000 people.The stadium closed in 2012, and was partially demolished in 2013 for redevelopment. 
The most prominent feature of the new renovations is the horse head of "Akhal-Teke" which resembles the national emblem of the country. It was used mostly for football matches, but also for musical performances by Turkmen pop stars such as Maral Ibragimova.
The renovated stadium was the site of the 5th Asian Indoor and Martial Arts Games, which is also counted as the 5th Asian Indoor Games. The opening and closing ceremonies for the games were held in Ashgabat, Turkmenistan on 17th and 27th September 2017.
Authority:
On materials of information department of the State committee of Turkmenistan on tourism and sport.