Sport center Kopetdagh.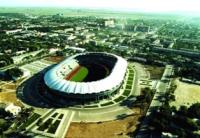 Adventure park in Ashgabad.
"Creativity is putting your imagination to work, and it's produced the most extraordinary results in human culture"
Ken Robinson.
The Best Way To See Turkmenistan and Central Asia!
Sports complex Kopetdagh (turkmen "Köpetdag" sport toplumy) - the stadium of multi-purpose use in Ashgabad called in honor of mountain System Kopetdagh. Now it is used generally for holding football matches.
Is the largest football stadium in Turkmenistan. Is under authority of the Ministry of Internal Affairs of Turkmenistan. The Kopetdagh stadium was constructed in 1997, the international technical company "Mensel JV".
From the moment of opening - the home arena of Ashgabat Kopetdagh. In 2015 at stadium radical reconstruction by the Turkmen construction companies is carried out. The opening match between Kopetdagh and Merv within the Cup of Turkmenistan took place on August 5, 2015.
At a match there were 26 805 viewers. Participated in a ceremonial opening of sport center dear President of Turkmenistan Gurbanguly Berdimuhamedov. In the fall of 2015 at stadium 3 elimination games of the national team of Turkmenistan within the qualifying tournament on the World Cup of 2018 against Guam, India and Oman were held, all of them came to the end with a home win.
The total area of a construction - more than 11 hectares. It is designed for 26 503 viewers. Now the stadium has the football field with a natural covering. Around it - racetracks from synthetic rubber, sectors for long jumps, height, platforms for trainings.
At stadium a little connected stands to several entrances. Lighting at stadium conforms to the FIFA standards that allows to carry out television broadcastings. In the territory of a sports complex there are open athletic fields for team games with a ball, training court, gym.
Authority:
On materials of information department of the State committee of Turkmenistan on tourism and sport.