The square Registan.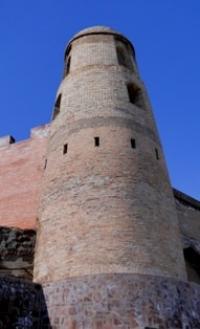 Cultural tours over ancient monuments of Tajikistan.
The regional center Gissar is located in 25 kilometers to the west of Dushanbe, and just in 7 kilometers south of Gissar, near the site of confluence the Hanaka River to the Kafirnigan River, the remains of a fortress tower above the valley which is known under the title "Gissar Fortress".
This well protected fortress was a residence of a governor of Bukhara Emir - Gissar Bek (barony) in XIX century. In its early nineteenth century heyday, the town had some 15,000 inhabitants and maintained trade contacts with Afghanistan, China, Arabia and India. Inside fortress there was a pool and a garden, and opposite there was a market, caravan shelter and a lot of small shops.
The gate of the fortress with portal and arch, one- storied old madrasa and a two-storied building of new madrasa of XVIII - XIX centuries are only lasted out up to now. Mahdumi Azam mausoleum is located not so far dating to XVI - XVII centuries, in which there is simple alabaster gravestone of local Sufi teacher. It is still an operating place of worship.
The fortress was occupied in 1924 by basmachi (local bands of freedom fighters, today they would be called mujahed) leader Ibragim Bek until the Red Army destroyed it completely. Only the gate remains though you can still clearly see the structure of the fortress when you climb up the hills.
The building of Madrasa Kuhna ("old madrasa") now is a museum with ancient utensils, a "model Tajik national room", jewelry and an interesting archaeological map of Tajikistan. The present "Gissar Fortress" was opened in 1982, with the most recent restoration were carried out in 2001.
Today this place is also popular for visits during marriages. The colored ribbons that people attach on the trees symbolize prayers and an example of the animist influence. 50 meters from the gate of the fortress there is a national teahouse, the interior of which are magnificently decorated by the national masters.
You did not sit in the house, you can drink tea and to eat directly on an open air under shadow of two huge plane trees, trees, age of which are not less than 500 years, and which are remarkable monuments of nature themselves.
An asphalt highway leads to the "Gissar Fortress", by which from/to Dushanbe or from/to Tursunzade you can reach there for 20-30 minutes by public transport or shared taxi. In Gissar town take the shared taxi from the bus station and ask for the каіа (in Tajik) or krepost (in Russian)
Authorship:
The Tourist guidebook on monuments of Tajikistan. 2012.