Shokalandor-Bab Mausoleum.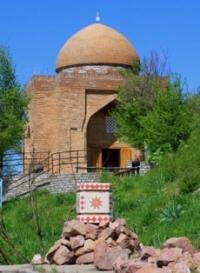 Sightseeing tours in Sairam.
"Does progress mean that we dissolve our ancient myths? If we forget our legends, I fear that we shall close an important door to the imagination" 
James Christensen.
A trip to Sairam from Samarkand.
The city of Isfidzhab, mentioned for the first time in the VIth Century and later renamed Sayram. was once a green oasis full of gardens and farmlands and a centre of settled agriculture, manufacturing and trade. It was home to a large community of Nestorians, but in 766 AD Muslim forces swept in from the west, conquering and converting its citizens, and killing 10,000 Nestorians in the process.
During the XIth Century, the scholar Mahmud of Kashgar reported on the city and was impressed by its white mansions. But following its sacking by Genghis Khan in the XIIth Century, its significance declined, and, after two attacks by the Zhungars in the XVIIth and XVIIIth centuries, it finally fell into decay.
A rectangular fortified area remains and has been preserved, stretching over some 500 - 550 metres, as well as some of the walls and the double earthworks that surrounded the city. A few important historical structures can still be visited today, thanks to partial restoration work.
They include the mausoleums of Ibrahim Ata and Abdel Aziz, who was the colour-bearer of the Muslim forces who conquered the city, and whose three-domed tomb was built on the orders of Tamerlane. Mausoleum of Shokalandar-bab, located in the northwestern part of the village of Sairam in the Sairam district of Turkestan region.
The mausoleum of Shokalandar-bab was destroyed in the last century. On the site of the destroyed mausoleum in the twentieth century, a new one was built, with a height of 7 meters and an area of ​​5 x 6 meters. According to legend, Shokalandar-bab was a padishah of Turbat (Gaziena), actively participated in the holy war of the Gazavat against the infidels, and remained in Sairam.
Near the mausoleum flows the canyon of Kanzhilga ("Blood Stream"), whose name indicates the likelihood of a battle in these places. In "Risolai Sarem-Isfizhob" there is the following information about Shokalandar bob "Shogazi-boba was a murid of Hazrat Bob Bukhari.
They say dhikr was in his heart. When he was lying, people in his heartbeat heard the voice "Allah, Allah." Near the mausoleum, the mosque Shokalandar-bab was built.
Authority:
"Code of monuments of the South Kazakhstan region." Architectural and archaeological heritage of the South Kazakhstan region. In the framework of the regional program "Cultural Heritage". http://www.farsah.kz
Photos
Alexander Petrov.