Shokamaliddin Javonmard Mausoleum.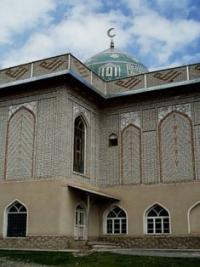 Sairam tourism.
"That was the day the ancient songs of blood and war spilled from a hole in the sky
And there was a long moment as we listened and fell silent in our grief and then one by one, we stood tall and came together and began to sing of life and love and all that is good and true
And I will never forget that day when the ancient songs died because there was no one in the world to sing them" 
Brian Andreas.
Sairam and the Silk Road of Central Asia.
The ancient mausoleum is located in the southern part of the village of Sairam, Sairam district of Turkestan region. The mausoleum of Shokamaliddin Javonmard has a height of 7 meters, an area of ​​5 x 6 meters.
According to assumptions, the mausoleum was restored at the end of the XIX century. The local population believes that Shokamaliddin Javonmard was the son of Khazret Imam Bakr Kaffol Shoshi, lived in the X - XI centuries and was a major scientist of his time.
Near the mausoleum is a grave, which is associated with the name of Shokamaliddin.
Authority:
"Code of monuments of the South Kazakhstan region." Architectural and archaeological heritage of the South Kazakhstan region. In the framework of the regional program "Cultural Heritage". http://www.farsah.kz
Photos
Alexander Petrov.