Sarkhalka bab mausoleum.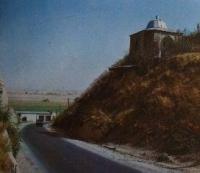 Pilgrimage to Sairam to the holy places.
"People usually feel funny, smile and laugh when I tell them 
about my strong belief in the very existence of prehistoric 
advanced technology and great civilizations of wilier races. 
I just can't wait to see their faces at time the truth is revealed" 
Toba Beta.
Ancient Sairam and its shrines.
In the north-eastern part of the village of Sairam in the Sairam district of the Turkestan region there is a hill called by the people of Sarkhalka Bab. On this hill was the grave of Sarkhalka Bab. During archaeological excavations conducted on this territory, the location of the mausoleum with an area of ​​4 x 4 m was discovered and the location of the grave was determined.
Currently, this mausoleum has been restored. According to the testimony of "Risolai Sarem-Isfizhob", the Sarhalka Bab is a pseudonym for Khoji Hamid aha Baizavi. He lived and created in the X - XI centuries, was a major scientist, managed a meeting of scientists, and for his merits in the development of science he was nicknamed Sarkhalka Bab.
Authority:
"Code of monuments of the South Kazakhstan region." Architectural and archaeological heritage of the South Kazakhstan region. In the framework of the regional program "Cultural Heritage". http://www.farsah.kz