Salt lakes of Mangyshlak.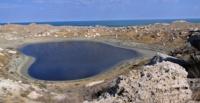 Expedition to Mangyshlak. 
 
"A good traveler has no fixed plans and is not intent on arriving" 
Lao Tzu.
Experienced guides on Mangyshlak.
At rocky ridge Kurgantash on Mangyshlak two salt lakes are located. The first lake which is closer to ridge - is called Ketyk, (or Akkol), the second lake which is closer to the gulf - Bulak (Kyzylkol). Red the lake is called on the expressed red shade.
As it is reported in the sanitary review of 1886 preparation by the doctor Kuchinsky, and also the collegiate adviser, the senior doctor Vilyansky "the lake Bulak is filled with the microscopic seaweed giving to the lake red color and a violaceous smell.
This lake is considered useful at skin diseases, rheumatism, neuralgia, even at paralyzes, hardly it is right as the number swimming in this lake every year decreases". In "The short Review of the Mangystau district of 1932" there is interesting information: "… are near from Bautino there is a lake Katyn-Kulak and the lake with big salt contents is closer to the Fort.
In Katyn-Kulak salt is extracted, a subsoil of the second lake stores Glauber's salt, however layers are filled with a thick layer of silt therefore extraction of salt is not conducted here".
Authority:
Natalya Zaderetskaya. "Tupkaragan - a cradle of Mangystau".
Photos
Alexnder Petrov.