The rest house of brigades in Arys.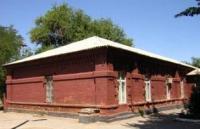 Observing excursion tour to Kyzylorda.
"We'll drive along the same road ten, one hundred times. And all these roads have their own roads. Otherwise, they would not be roads"
Edmond Jabes.
Guided walking tour to Shymkent.
The rest house of brigades in Arys was built in 1905 of the XX century. The house is located in the city of Arys, which is part of the Shymkent agglomeration of the Turkestan region. The rest house of brigades in Arys is located in the station area of ​​Arys 1 station, in the depth of the building.
It was built during the complex development of the Arys 1. railway station. The walls are brick, in front masonry. It is of interest as an example of creating the expressive appearance of a building using a variety of brickwork. A one-story, rectangular building with a corridor layout system.
The main entrance and the end parts of the building are highlighted with risalits. In the piers between the windows, rectangular facades mark the junction of the internal partitions. The facades at the corners of the risalits in the upper part are decorated with faces.
Decorative window frames with an upper lock in the center are decorated with an ornament. The upper stripes in the upper and under the window part of the window openings emphasize the horizontal division of the facades.
The completion of the overall composition is a cornice, decorated with many rows of stripe ornaments. In the interiors on the ceiling of rooms gypsum ornaments. Now in this building is located the Department of Internal Affairs of Arys.
Authority:
D. A. Taleev. "Code of monuments of the South Kazakhstan region." Architectural and archaeological heritage of the South Kazakhstan region. In the framework of the regional program "Cultural Heritage". http://www.farsah.kz