Water tower in Arys.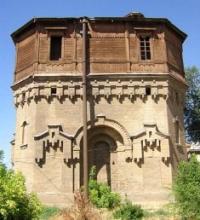 Tours to train station Arys.
"When you go to a new life - choose a flourishing road"
Maria Berestova.
A trip from Shymkent to Arys station.
The water tower at the Arys railway station was built in 1906. At the end of the 19th century, the question arose of building a road from Tashkent to Orenburg, the construction of which began in the autumn of 1900 at the same time from both ends.
In January 1906, a 2090-mile long Tashkent-Orenburg road entered service, opening direct access to Central Asia to Central Russia. The water tower is located on the territory of the hospital town of Arys. This is a type of engineering construction, the brick base of which and the lightweight wooden top form a 2-tier tower.
Architectural and artistic solution of the facades in line with the "brick style". Volumetric planning solution meets the functional purpose. Two water tanks installed at the level of the 2nd tier are supported by a powerful brick base made in the form of 2 paired eight faces.
The main decorative load is the base of the tower, separated from the upper tier by a wide stepped cornice. In the center of the facade faces of the tower are promising niches formed by circular arches. Above the openings are enriched with masonry, repeating the pattern of the cornice.
The overall composition is completed by a wooden top, decorated with a carved facade.
Authority:
D. A. Taleev. "Code of monuments of the South Kazakhstan region." Architectural and archaeological heritage of the South Kazakhstan region. In the framework of the regional program "Cultural Heritage". http://www.farsah.kz