Residential building № 10 in Arys.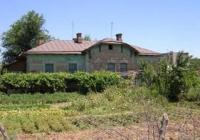 Photo tours to cities of Kazakhstan.
"Architecture is the alphabet of giants, the greatest system of visible symbols ever created"
Gilbert Chesterton.
Special excursion from Turkestan to Sauran ruins.
Residential building number 10 in the city of Arys built in 1912 - 1915. The house is located in the city of Arys, which is part of the Shymkent agglomeration of the Turkestan region. It is located near the station of Arys 2 station, it opens the entire development of the street, differs from the rest of the residential development by the layout and appearance.
One-story, L-shaped in plan, with a roof, the house is freely located on the street. The compositional center of the facade of the house is highlighted with completion and a large roof. The windows are decorated with jumpers, the rest are straight.
The decor of the facades uses a brickwork texture. Decorative trim complement window eaves. The planning structure consists of 3 main parts, the inner space of which was changed by later partitions; the device of the longitudinal corridor violated the initial connection between the rooms of the central and narrower right buildings.
Authority:
D. A. Taleev. "Code of monuments of the South Kazakhstan region." Architectural and archaeological heritage of the South Kazakhstan region. In the framework of the regional program "Cultural Heritage". http://www.farsah.kz