Residential building in Arys.
Cultural walking excursion to Shymkent from Taraz.
"Architecture - the spokeswoman of morals"
Honore de Balzac.
Group inclusive tour Aksu-Zhabagly reserve to Shymkent. 
Residential building at the station in Arys, built at the beginning of the XXth century. Located on the right side of the station square of Arys 1. The house is located in the city of Arys, which is part of the Shymkent agglomeration of the Turkestan region.
The house is located with a large indent from the red line, a free-standing house with the main facade facing the square and separated from it by a green area. One of the first residential buildings in the station area. One-story, brick, with facing masonry walls, on rubble foundation.
Square in terms of volume under a 4-pitched roof, has an elegant facade. The main and western facades are highlighted by completed high parapets. The walls are divided by window openings, the decor of the facades is complemented by curly niches in the corners, a lush pattern of cornices and parapets.
Wooden curly brackets support the roof and awnings above the risalit windows. In the internal layout of the house adjacent rooms are located on both sides of the longitudinal capital wall. Interiors changed late rework.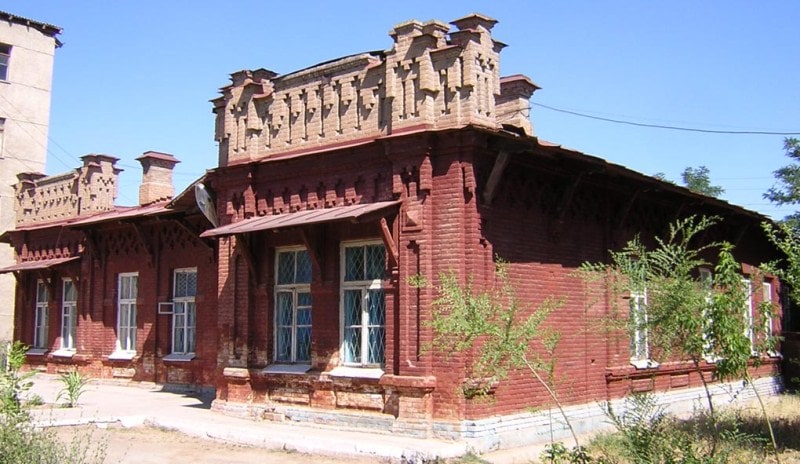 Authority:
D. A. Taleev. "Code of monuments of the South Kazakhstan region." Architectural and archaeological heritage of the South Kazakhstan region. In the framework of the regional program "Cultural Heritage". http://www.farsah.kz