Railway station Arys 2.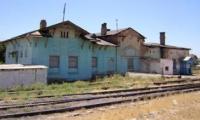 FIT trip from Shymkent to Kyzylorda.
"It's good to be on the road that you choose for yourself" 
Edmond Jabes.
Foreign Independent Tour in Shemkent.
The train station Arys 2 dates from the years of construction 1912 - 1914 on. It is located in the city of Arys, which is part of the Shymkent agglomeration of the Turkestan region. Closes the perspective of the street, the center of the composition of the forecourt.
Used as a hostel; internal adjustments were made, details of the decor were lost. An elongated rectangular construction is placed along the railway tracks; The architectural composition is formed by 3 different in height parts of the building, highlighted by the facade with risalits.
The central and right parts of high walls end each with a separate roof. The peculiar appearance of the building gives a large overhang of the roof. The overhang is supported by wooden supports on the brackets. Attic dormers are arranged.
The facades of the central part of the building are highlighted by a wide glazed entrance with a circular transom. Later, the entrances were redone on the windows, transoms laid. The transoms of all window openings and windows at the ends are laid.
In the decoration of the facades, the texture of the front masonry, the lintels of the windows, the completion of the blades are decorated with curly masonry. The internal layout was changed by later restructuring. The central room was occupied by the lobby, side cash register and waiting rooms, office rooms.
A corridor with a two-row arrangement of rooms is arranged along the longitudinal axis.
Authority:
D. A. Taleev. "Code of monuments of the South Kazakhstan region." Architectural and archaeological heritage of the South Kazakhstan region. In the framework of the regional program "Cultural Heritage". http://www.farsah.kz