Petroglyphs of Besoba.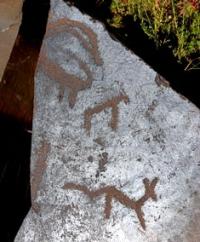 Package holiday Kazakhstan & Uzbekistan.
"Ancient aphorisms outlived centuries. Modern aphorisms can barеly survive from book to book" 
Ljupka Cvetanova.
Adventure holiday  in mountains Kazakhstan.
The Besoba Valley petroglyphs are located in the Karaganda Region, 45km north-east of Sayak town, on the right bank of the Turanga River, along the eastern slope of the Semizbugu Mountains. Sites in the Semizbugu Mountains and Besoba Valley were discovered and researched in the 1960's by geologists Medoev A.G. and Aubekerov B.Zh.
An archeological and geomorphological map of the area was then made (Medoev 1979). In 2007, Rogozhinskiy A.E. studied, recorded and photographed petroglyphs at Besoba, and drew up an archeological map.
The Besoba plain stretches along the eastern slopes of the Semizbugu Mountains. A large complex of dwelling-sites/workshops dated to the Paleolithic and Neolithic, kurgan burial sites from the Early Iron Age, wintering grounds and cemeteries dated to the XIXthearly XXth centuries were discovered.
The topography of the sites points to an erratic frequentation of the region at certain historical periods. The most favorable conditions for life existed, apparently, in the Neolithic and Bronze Age. Petroglyphs are pecked on diorite porphyries 2-3m above their surroundings.
The rocks stretch from north to south in several rows along the valley for 5 - 10km and form natural galleries with ancient drawings. A total of about 300 surfaces with rock art were recorded with nearly 1,000 petroglyphs.
In some places, vertical and inclined surfaces of rocks stretch for tens of meters. There are many images on rocks closer to the river. Neolithic artifacts were also found. Petroglyphs are rarely found on sites far from the water.
No sites from the 2nd millennium BC were identified, but more than half the Besoba petroglyphs date to the Bronze Age. Images include numerous horses, scenes with humans and a two-wheeled cart. The Early Saki petroglyphs, which are rare, are hammered on good horizontal surfaces.
They often include contour figures of deer and panthers as well as horses hooves, many re-carved in later periods. Drawings of the Saki Period are nonexistent, thus suggesting a gap in rock art tradition in the second half of the 1st millennium BC.
During the medieval period, artists often re-carved and modified ancient petroglyphs, for example Bronze Age horses were refreshed with added details of harness and riders. Lineage tamgas form a special type of petroglyphs.
A final period of rock engravings dates to the XIXth - early XXth centuries and is attributed to the settlement of Argyn Kazakh tribes in the region. Their tamgas are found near wintering grounds. Rock Art Sites in Kazakhstan 35 Images of horse hoof tracks were replicated many times, and ancient images were also re-carved at that time.
Authority:
"Rock Art Sites in Kazakhstan".  Alexey E. Rogozhinskiy.
Photos by
 Alexander Petrov.