Mausoleum of Agybai batyr.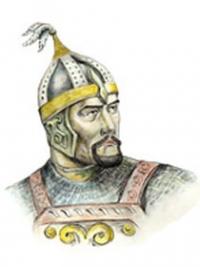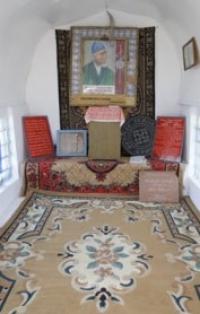 Great hiking in mountains Kazakhstan.
"The leader leaves the people, but does not return back"
Don Aminado.
Tours to Central Kazakhstan.
The mausoleum of Agybai batyr is located on the left bank of the drying up channel of the Sarybulak, 69.8 kilometers west of the railway station Moiynty, 47.8 kilometers south-west of the village of Kiikty, 14.4 kilometers north-west of Mount Shunak, 1111 meters high above sea level in the Shet district of the Karaganda region.
The mausoleum of Agybay batyr is a monument of cult architecture and history of the XIXth century. The mausoleum was built over the grave of Batyr Agybai. Agybai batyr, Shubyrtpaly Agybai (1802 - 1885) - one of the leaders of the people's liberation uprising in 1837-1841 under the leadership of the last Kazakh khan Kenesary Kasymov against the colonial policy of Russia.
Agybai batyr mausoleum square in plan, dome-centric structure, covered with a sphero-conical dome. The transition from the quadrangle to the octagon and further to the circle of the dome was made by overlap masonry using double corner columns as structural elements.
The columns end with
The interior is plaster. The structure was built of mud bricks on clay mortar, the dimensions of the bricks are 30 x 15 x 5 cm. The dimensions in the plan along the outer perimeter are 9.80 x 10.15 meters, the height is 8 meters.
The height of the building's cube is 3.10 meters, the corner towers are 1.30 meters. Entrance opening 1.45 x 0.70 meters. Dimensions in plan 6.85 x 6.85 meters (internal dimensions). "Ivan" in plan is 2.70 x 4.00 meters, its height is 2.70 meters.
The thickness of the walls of the "aivan" is 1 meter. The Agybai batyr mausoleum is one of the largest mud brick structures in Kazakhstan. Agybai batyr was buried in the Tayatkan-Chunak area on the border of Saryarka and Betpakdala.
The life of Agybai batyr became the theme of the work of S. Seifullin "Akzholtai batyr". Monument of republican significance (Decree of the Council of Ministers of the Kazakh SSR No. 133 of February 17, 1949). At the moment, the mausoleum of Agybai batyr has been restored, the first stage of work has been completed in 2005.
Geographic coordinates of mausoleum of Agybai batyr: N47 ° 13'20.75 "E72 ° 26'14.08"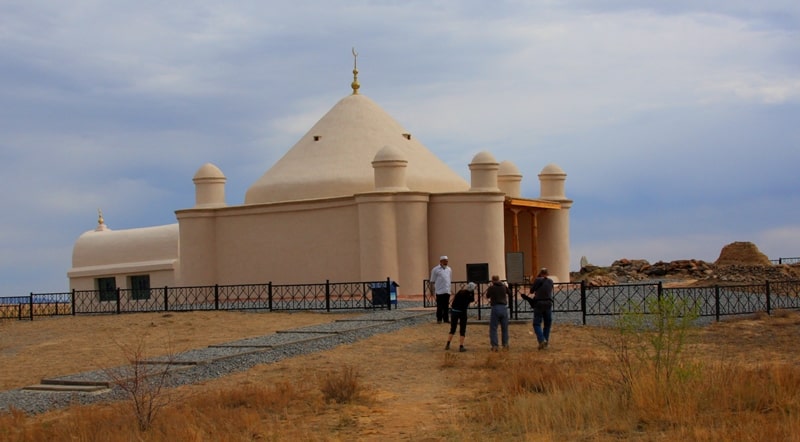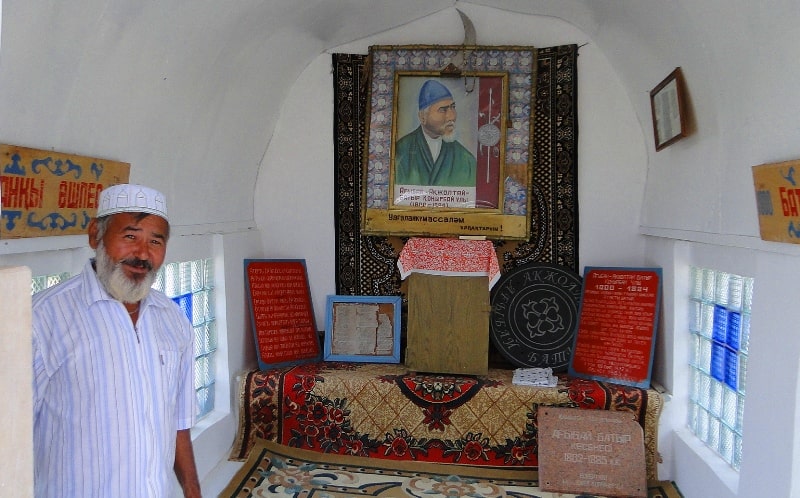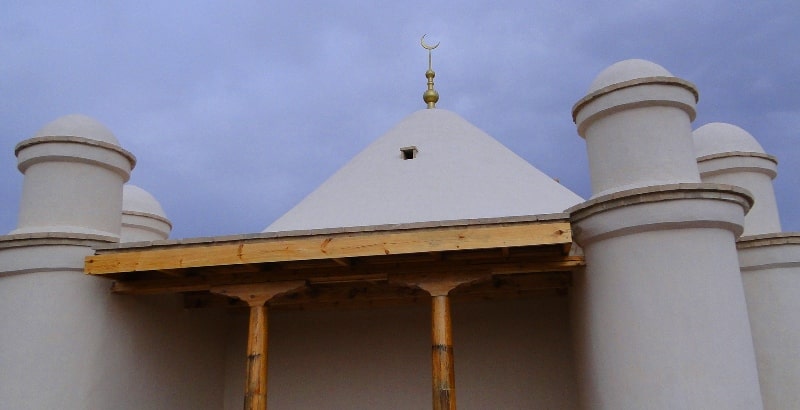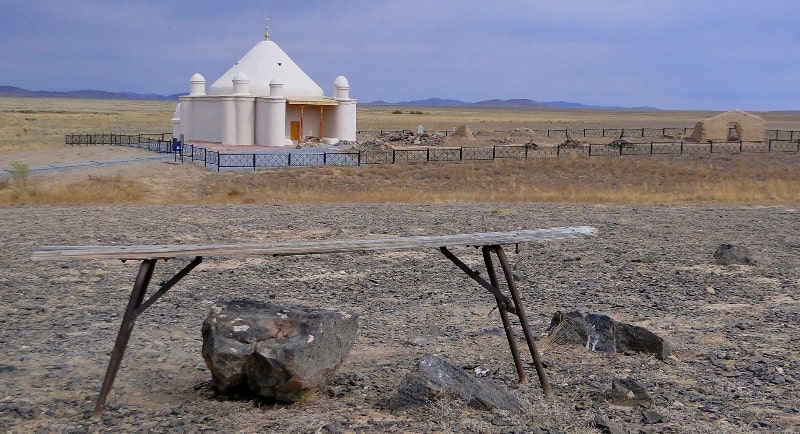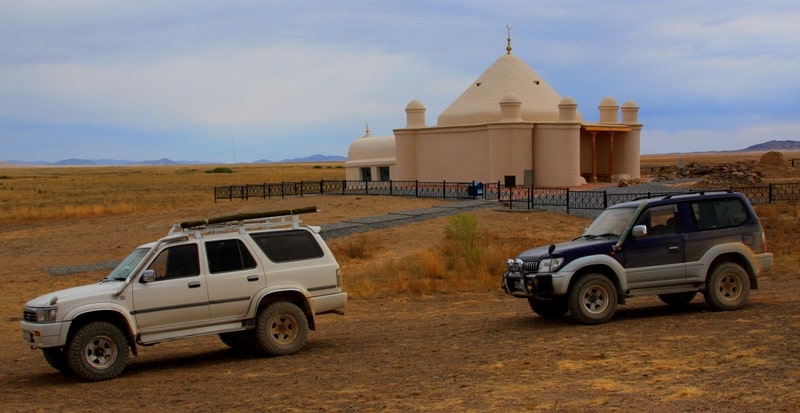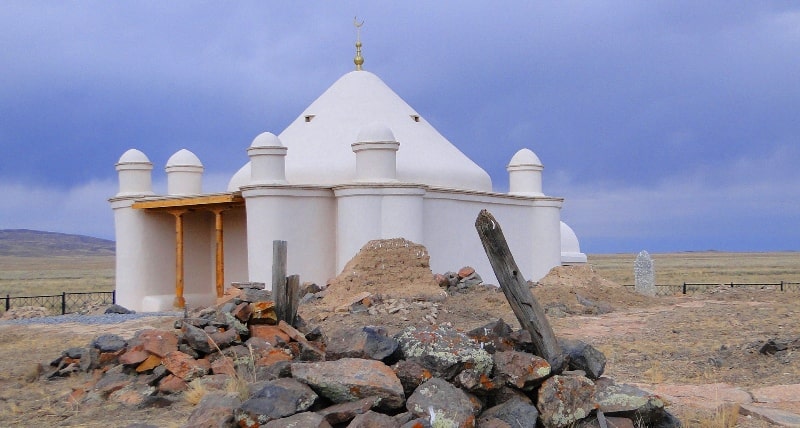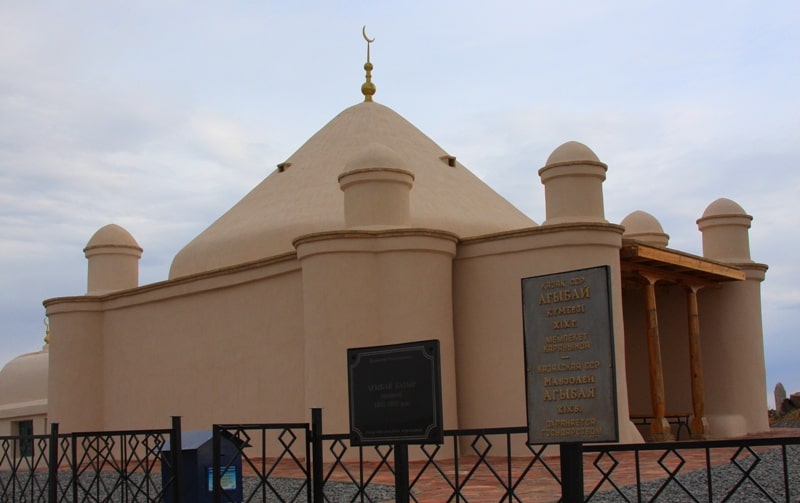 Authority:
"Religious and Spiritual Monuments of Central Asia". Author M. Khashimov. Publishing house "Saga", 2001 www.farsah.kz. "Ancient Kazakhstan" Arias, Sakas, Huns, Turks. Children's encyclopedia of Kazakhstan. Almaty, 2007, Aruna publishing house. Medoev A.G.,. Magauin M. The ABC of Kazakh history. Documentary storytelling. Almaty, "Kazakstan", 1997. Kazakhstan, national encyclopedia, 1 volume, K. Akhmetov, book "Ulytau" series "Menin Otanym - Kazakhstan".
Photos by
Alexander Petrov.