Oguzkent hotel in Ashgabad.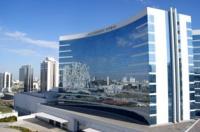 Go sightseeing in Ashgabad.
Oguzkent (turkmen Oguzkent oteli) - magnificent five-stars hotel in Ashgabad, on Bitarap Avenue Turkmenistan. The hotel is located in the administrative center of the capital of Turkmenistan, in 20 minutes of driving from the airport.
In the neighbourhood with hotel there are the Central bank of Turkmenistan, the Exhibition center, a number of the ministries, the museums and theaters, in radius of one kilometer shopping centers and markets.
In hotel 299 numbers, 3 restaurants with the international, French and Moroccan cuisines, bar, two-storeyed SPA with the covered and outdoor pools, a sauna, fitness studio and tennis courts are located.
Construction of hotel began in 2007, for visitors it opened 2010. The facade is trimmed by white marble and glass, the building reflects the idea of revival of the country, is issued in traditional Turkmen style.
Authority:
On materials of information department of the State committee of Turkmenistan on tourism and sport.