Monument Pushkin in Ashgabad.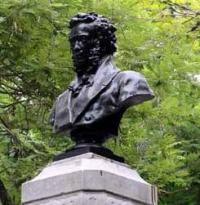 Main tourist attractions in Ashgabad.
"I erected a monument to not made by hand…"
Turkmenistan section of Silk Road.
Monument to Pushkin in Ashgabad. It is open at the end of the XIXth century, it was solemnly open in 1911 in honor of the 100 anniversary since the birth of the great Russian poet, in Ashgabat.
The oldest city monument. It is constructed at the expense of Russian intelligentsia.
The monument did not suffer during an earthquake of 1948. In 1899 by the local intellectuals put forward the idea of construction of a monument to the Russian writer, in connection with bringing closer a centenary of the poet.
The whip-round began, contributions were made not only by people prosperous, but also workers, workmen, soldiers. Collecting brought the sum considerable for those times. Preparation of materials and construction of a monument took about two years.
The monument was transferred by the order of the chief of the Zakaspiysky region of the Russian Empire to the jurisdiction of district administration. The monument endured civil war and a catastrophic Ashgabat earthquake of 1948.
The monument is established in one of picturesque corners of Ashgabat. It is created at the beginning of the XXth century on the project of the engineer Butuzov, the sculptor Berto. To Alexander Sergeyevich Pushkin 200 anniversary the monument to the poet was restored.
The monument annually becomes the center of a solemn flower-laying at birthday of the poet. The monument represents the high column pedestal topped with a bust of the poet. Below from all four parties of the carved socle supporting a harmonious column on a black background of rectangular niches gold wrote out a surname, a name and a middle name of the poet, date of his birth and death and a line of the poem "I a Monument to Erected Not Made by Hand…".
The socle is surrounded by four massive decorative curbstones connected among themselves by thick pig-iron chains, around is broken bosketa and flower beds. Around a monument "Pushkin" Square is located". Small Street on proximity, also carries Pushkin names.
Authority:
<https://ru.wikipedia.org/wiki>