Mountains Karakyz-Kagakyz on Mangyshlak.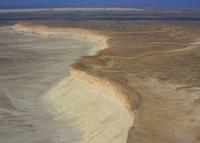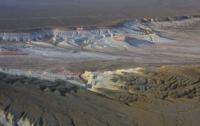 Aktau mountains on Mangyshlak.
"Frankly speaking, a traveler needs to be born, and one should set off into the distance only in years of full strength"
Petr Kozlov.
Mountains of Kazakhstan.
Karakyz-Kagakyz mountains are located in the central part of the Mangyshlak peninsula, 20 kilometers southwest of the western part of the East Karatau ridge, 13 kilometers south of the eastern part of the West Karatau ridge, in the Mangistau region of the region of the same name.
The latitudinal Karakyz-Kagakyz mountains stretch for 15 kilometers, their width in the western part reaches 8 kilometers. The mountains on all sides, with the exception of the western side, are more reminiscent of an almost circular cliff of a plateau that rises to the west.
The highest elevation on the Karakyz-Kagyz plateau in the western part is a nameless mountain with a height of 288.6 meters above sea level. The next highest is an unnamed mountain with a height of 283.3 meters above sea level, which is located 3.8 kilometers northwest of the previous mountain.
The Aktau-Beyneu railway runs along the northwestern and northern parts of the mountain. The western valley of the mountains is the Zharyptausken valley, in the south - the Karakyz valley. From the east, the valley of the mountains is the Zhetybai-Shetpe highway and the Kyzylturan valley.
The western part of the cliffs is heavily indented by ravines and is a beautiful tourist attraction, where you can take interesting Sunday walks. The Karakyz-Kagakyz plateau has three terraces - western, central and eastern.
The eastern part of the plateau is the most elevated and, in this regard, has dominant heights. The surface of the mountains has a fairly flat plateau surface. Along the entire perimeter, with the exception of the eastern part, the cliffs are indented by numerous ravines with steep, sometimes sheer slopes.
Geographic coordinates of Karakyz-Kogakyz mountains on Mangyshlak peninsula: N44°02'19.91" E52°03'35.09"
Authority and photos by
Alexander Petrov.