Mosque of Ikram.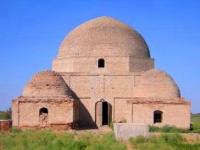 Turkestan Silk Road Tours.
"The first law of history is to be afraid of lies, and then not to be afraid of the truth"
Cicero.
Rounds 2021 in Kazakhstan.
The Ikram mosque is located in the Otyrar district of the Turkestan region, 2.1 kilometers southeast of the Akkol village and 6.1 kilometers northeast of the Baltakol village, the mausoleum is located 1.8 kilometers from the left (western) bank of the Syrdarya.
The mosque building was built of rectangular burnt brick measuring 27 x 13 x 6.5 cm. The dome is lined with square bricks. From the side of the main facade to the mosque, 2 late extensions were built in the form of small domed, symmetrical prismatic volumes.
It characterizes the type of mosque-kiosk. The cubic volume is crowned with a dome mounted on an 8-sided, with light openings. The front walls of the mosque are decorated with large rectangular panels. Dome extensions on the sides of the main entrance of the mosque contain square rooms with a separate entrance and not connected with the hall of the mosque.
In the interior of the mosque along the axes of the square in terms of the niche premises, through which the transition to the dome is made. The walls are plastered and whitewashed. In the center of the southwest wall is a mikhrab niche.
Polychrome murals in the form of floral and geometric ornaments and epigraphic stripes on the domed frieze are preserved on the walls.
Geographic coordinates of the Ikram mosque: N43 ° 09'05.36 "E67 ° 49'01.85"
Authority:
D. A. Taleev. "Code of monuments of the South Kazakhstan region." Architectural and archaeological heritage of the South Kazakhstan region. In the framework of the regional program "Cultural Heritage". http://www.farsah.kz