Monument of Tokash Bokin.
Monuments to revolutionaries in Almaty.
"A feat for our people is not a sacrifice, but one of its everyday manifestations"
Vera Panova, "Satellites".
A trip from Almaty to Sozak.
The monument to Tokash Bokin is located on the western side, at the entrance to the park named after 28 Panfilov's from Kunaev Street. Established in 1980. Tokash Bokin (1890 - 1918) - a participant in the struggle for the establishment of Soviet power, a participant in the anti-war Uprising in Semirechye in 1916, the establishment of Soviet power in Verny in 1918.
He was promoted to the highest posts in the Soviet government (Deputy Regional People's Commissar for the Regulation of National Relations, Commissioner of the Regional Food Council, member of the board of the Regional Council of People's Commissars).
He was killed in the year of revolutionary unrest in Verny in September 1918. The height of the monument-bust is 4.8 meters. The waist figure is carved from a gray granite rectangle according to the model of sculptor B.A. Abishev and architect Sh.E. Valikhanov (1980).
Initially, there was the installation of other monuments, but stopped at the latter, blocking Oktyabrskaya Street (Ayteke-bi).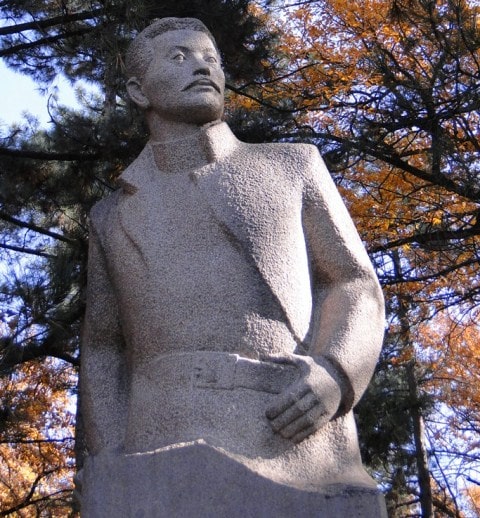 Literature:
Bokin Tokash. In the book: Almaty. Encyclopedia. Ch. ed. R.N. Nurgaliev - Almaty, 1996, p. 99; Matveeva L.A.
Monument to T. Bokin In the book. : Monuments of history and culture of Almaty. Catalog of documents of the Office of Archives and Documentation and TsGA of Almaty.
Almaty, Oner Publishing House, 2003, p. 160 - 161
Authority:
Vladimir Proskurin (Berlin).