Monument of Musrepov Almaty.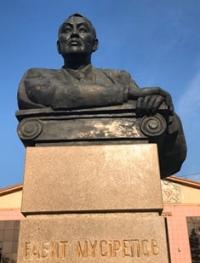 Individual sacred tours in Kazakhstan.
"Talent gives us the best fruits as long as the muse adores him"
Leonid S. Sukhorukov.
Group tour from Astana to Almaty.
The monument to Gabit Musrepov, a Kazakh Soviet writer, public figure, academician of the National Academy of Sciences of Kazakhstan, laureate of the State Prizes of Kazakhstan (1902 - 1985) was erected on the square in front of the State Academic Theater for Children and Youth named after Gabit Musrepov at 38 Abylay Khan Avenue in front of the Theater Young viewer.
Authors: sculptor K. Satybaldin, architect V. Katsev. The opening of the monument took place on November 12, 2002.
In 1974, Musrepov was awarded the title of Honorary Citizen of Petropavlovsk. Musrepov named one of the streets of Astana, a district in the North Kazakhstan region, the Kazakh State Theater for Children and Youth in Almaty.
In 1991, the literary and memorial house-museum of G. Musrepov was opened where the writer lived. Commemorative coin with face value of 50 tenge was issued. Musrepov Boulevard was laid up from Abay Avenue to the Exhibition.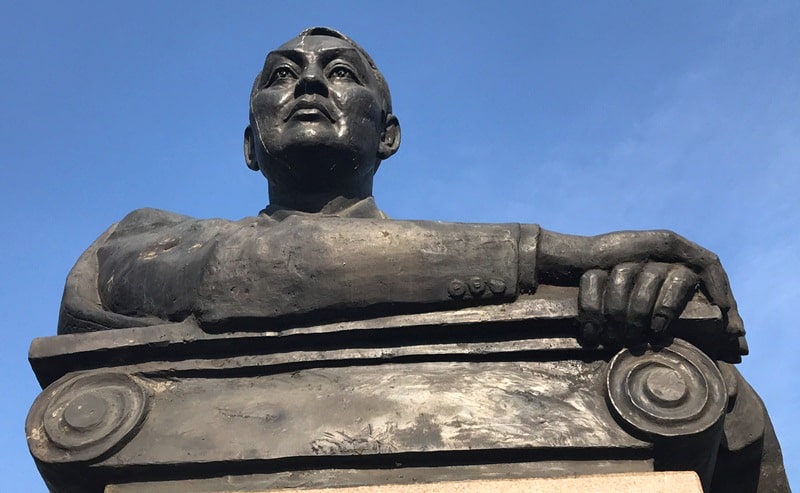 Literature:
Matveeva L.A. Monument to the "Warriors of Kazakhstan."
In the book: Monuments of history and culture of Almaty. The catalog of documents of the Office of Archives and Documentation and the Central Administration of the City of Almaty.-Almaty, Oner Publishing House, 2003, p. 183
Authority:
Vladimir Proskurin (Berlin).
Photos
Alexander Petrov.