Monument of Muratbaev Almaty.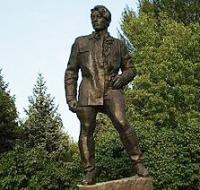 Tour of Almaty and Central Asia.
"Whoever is timid by nature, he will not only not commit any brave feats, but will also inspire fear in his comrades"
Thomas More, Utopia
Railway tours in Kazakhstan.
The monument of monumental art to Gani Muratbaev, the organizer of the Komsomol in Central Asia and Kazakhstan (1902 - 1925), was erected on Lenin Avenue (Dostyk) at the corner of Satpayev Street in 1985. The monument to the young revolutionary is cast in bronze.
The total height is 3.7 meters. Sculptors T.S. Dosmagambetova, O.G. Prokopyeva, architects Sh.E. Valikhanov, A.S. Kainarbayev. Gani Murtabaev is depicted in a paramilitary jacket - a uniform typical of a Soviet worker of the 20s.
The monument stands on the stylobate, turning into an arc from the back. On the front part it is written: "Gani Muratbaev." 6 steps lead to a site made of polished red granite tiles, where the monument is located.
Literature:
Matveeva L.A. Monument to the "Warriors of Kazakhstan."
In the book: Monuments of history and culture of Almaty. The catalog of documents of the Office of Archives and Documentation and the Central Administration of the City of Almaty.-Almaty, Oner Publishing House, 2003, p. 183
Authority:
Vladimir Proskurin (Berlin).