Monument of Lenin in Almaty.
Information tour in Almaty.
"In life there is always a place for a feat, but there is not always a place for a hero"
Konstantin Kushner.
Kazakhstan expedition on off-road vehicles.
The monument to Vladimir Ilyich Lenin was unveiled on November 7, 1957 in the square named after V.I. Lenin, now it is Astana square). In 1997, the monument to Lenin was moved to the square behind the Sary-Arka cinema.
Sculptor of the monument V.I. Lenin - E.V. Vuchetich (1908–1974). For the creation of the monument to V.I. Lenin in Almta-Ata published a decree of the Presidium of the Supreme Council of the Kazakh SSR "On awarding the title of Honored Art Worker of the Kazakh SSR to Comrade E. Vuchetich, Architect of the Monument I. I. Belotserkovsky.
The height of the monument is 15 meters, made of bronze and red granite, the height of the figure of V.I. Lenin 7 meter. The monument to Lenin is made of bronze and depicts V.I. Lenin at the time of his speech to the people.
In December 2011, the monument to Lenin was removed from the list of state-protected monuments, including 34 other monuments of the southern capital.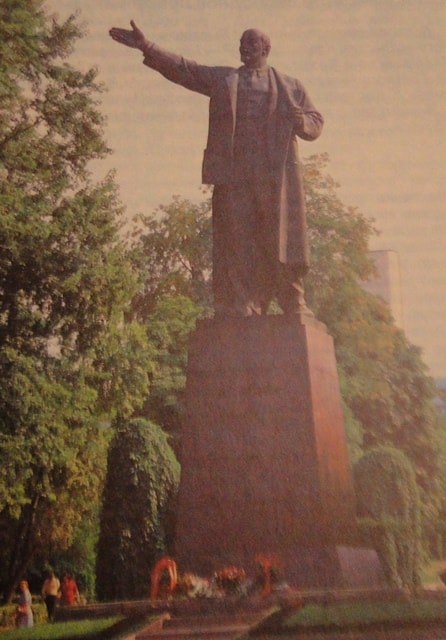 Literature:
Matveeva L.A. Monument to the "Warriors of Kazakhstan."
In the book: Monuments of history and culture of Almaty. The catalog of documents of the Office of Archives and Documentation and the Central Administration of the City of Almaty.-Almaty, Oner Publishing House, 2003, p. 183
Authority:
Vladimir Proskurin (Berlin).