Monument of Alibi Zhangildin in Almaty.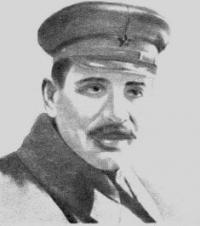 Tourism in cities of Kazakhstan.
"Forward! Without fear and doubt
On the heroic deed, friends! "
Alexey Plescheev.
Sightseeing tours from Almaty to Bishkek.
Monument of monumental art to a statesman, participant in the revolutionary movement, the Civil War in Kazakhstan A.T. Zhangildin (1884 - 1953) was erected in a park on the station square of the Almaty-1 railway station in 1975.
The bronze figure of A. Zhangildin was cast according to the model of sculptures by TS Dosmagambetova, O.G. Prokopieva. A pedestal made of polished black gabbro with an ornamental belt was designed by architect Sh.E. Valikhanova.
The internal energy, determination of A.T. Zhangildin was conveyed by the sculptural solution of the monument. On the post ¬ inscription: "Əліби Жангелдин". The total height of the monument is 12 meters. The authors of the monument project were awarded the State Prize of the Kazakh SSR in 1976.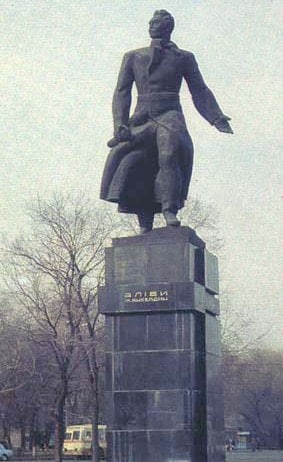 Literature:
Matveeva L.A. Monument to the "Warriors of Kazakhstan."
In the book: Monuments of history and culture of Almaty. The catalog of documents of the Office of Archives and Documentation and the Central Administration of the City of Almaty.-Almaty, Oner Publishing House, 2003, p. 183
Authority:
Vladimir Proskurin (Berlin)