Kos Beyit mausoleum.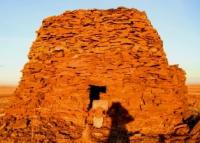 Architectural monuments of Kazakhstan.
"Where truth comes through the fog
There is defeated deception..."
Firdousi Abulkasim.
Historical places of Akmola region.
Location: near Terisakkan village, Zhaқsynsky district, Aқmola region. Story-legend: The mausoleum received the name "Kos Beyit" because of two hills visible from a distance. At one time, the environs of the mausoleum were the possession of a rich man, whose orders were not usually discussed among the people.
He had a daughter of unprecedented beauty. Numerous bay's cattle livestock was grazed by a young dzhigit who carefully guarded it from wolves and barimtcha. The guy was in love with beautiful daughter of the owner, the girl also showed sympathy for the shepherd.
A young man makes an appointment with the girl with the help of its zhenge-wives of older brothers.  But Uzun's kulak informs the girl's father about this. Bay, outraged by the fact that the slave who serves him for a piece of bread, meets his daughter, gives the order to beat the guy.
Even while dying, the guy dreams of his beloved. Young body defeated the disease, recovering from the beatings, living in the house of a distant relative, the shepherd prepares an escape plan with her lover. Having agreed it with the girl, one day he steals her.
But, it turns out, that Bay watched him and, having learned about the escape of the young girl, sents chase after them. No matter how prepared the young man's horses are, the group that chases them catches up and surrounds them.
The event took place in the spring, the snow melted, the river Terisakkan was about to spill over. Seeing that they are surrounded, the young, without hesitation, rush into the boiling water with the horses. Usually a quiet river at this time of year became dangerous.
Her strong current carries lovers. Father, seeing that the daughter may perish, tries his best to save them. But a strong current spins them and carries them away. The whole village is looking for lovers and only a few days later, they find bodies. The grieving father only then realizes that he was wrong, not allowing lovers to be together.
Worrying about his deed, he decides not to separate the lovers and buries their bodies together.
Authority:
Book of Tortay Saduakasova "Ел мен жер", 2003. Alseitov Saktash. http://srh.kz/content/mavzoley-os-beyt/