Kok-Tobe mount.
Travel on cable way Almaty.
"With cities, it is as with dreams: everything imaginable can be dreamed, but even the most unexpected dream is a rebus that conceals a desire or, its reverse, a fear. Cities, like dreams, are made of desires and fears, even if the thread of their discourse is secret, their rules are absurd, their perspectives deceitful, and everything conceals something else" 
Italo Calvino.
Group Cultural Tours Almaty.
This hilly area, which forms the final limits of the Zailiiskiy Alatau range, closely borders upon the city's southeastern edge. On its top, there is an observation deck from where a beautiful panorama of Almaty stretches out to the steppes beyond.
It is the best place to view the city scene at night with its myriad of glimmering lights. Kok-Tyube green peak, so called because it is covered with grass and bushes. On а clear day you can enjoy a magnificent panorama of Almaty from the viewing platform on top of the hill.
There are several ways of getting there: you can either take the cable car Kok-Tobe with Abai Square on Dostyk Avenue (open every day), or you can drive up: head south along Dostyk, then turn east just south of the Hotel AIatau.
You can also walk up the hill along one of the little streets east of Luganskovo. The hill is not developed - behind the observation site grows vegetation typically found in the highland and steppe zones of Central Asia.
The Kok-Tobe summit accommodates several nice restaurants and cafes. The mountain the Kok-Tobe is located at height of 1070 meters above sea level in east part from city Almaty in foothills Zailiiskiy of Ala-Tau.
Per 1972 mountain Veriginskay have renamed uphill the Kok-Tobe. Here have established a television tower in height in 372 meters. On a slope of mountain the Kok-Tobe is well-known 372 - a meter Almaty television tower - a symbol of city and its highest structure.
The spring of 2004 after plentiful rains on the Kok-Tobe has developed an emergency - on a surface of mountain there were significant cracks, the ground has started to slip and to fall structures.
There was a real threat landsliding a landslip on the residential areas located by a range. The city administration has made a decision on closing mountain. In the summer of 2004 works on strengthening a slope and reconstruction the Kok-Tobe have begun.
At top illegally erected structures, basically, cafe have been dismantled. Builders have drilled and have concreted 395 chinks depth up to 24 meters. Their primary goal - to keep a ground from slipping.
Also the road and viewing platforms have been restored cable way. For today the mountain the Kok-Tobe is again open for visiting. From it the magnificent panorama of Alma-Ata and ridge Zailiskiy of  Ala-Tau from it snowy tops opens.
In 2006 on mountain the entertaining center «Park the Kok-Tobe» has opened. On mountain the Kok-Tobe it is possible to rise on cable wat to an air tram, on foot or on a special minibus. From top the surprising panorama on mountains and city opens.
Here at especially beautifully night when the city is shined with multi-coloured fires. On the Kok-Tobe there is the fountain of "Desires" executed in the form of an apple, children's small town, Rock-climbing wall, an attraction «Fast Coaster», a small zoo, art gallery and souvenirs, chaikhana, restaurant "Yurta".
In 2007 on mountain the Kok-Tobe has been opened a monument to a rock group "The Beatles» Almaty sculptor E.Kazaryan. The sculpture represents a bench with a figure of John Lennon sitting on her with a guitar and figures of three ensembles costing behind of legendary participants - McCartney, Georges Harrisona, Ringo Starr.
The monument is an exact copy of originals and completely correspond to stylistics, mood and spirit of the well-known Liverpool four. On mountain the Cook-Tobe in 2016 the big wheel, at top of mountain is established.
Attraction is at height of 1070 meters above sea level and is the most high-mountainous big wheel in the Central Asia. In good weather from a big wheel the magnificent panorama of neighboring mountains and water basins Kapshagai, located in 75 kilometers, on the east, from Almaty opens.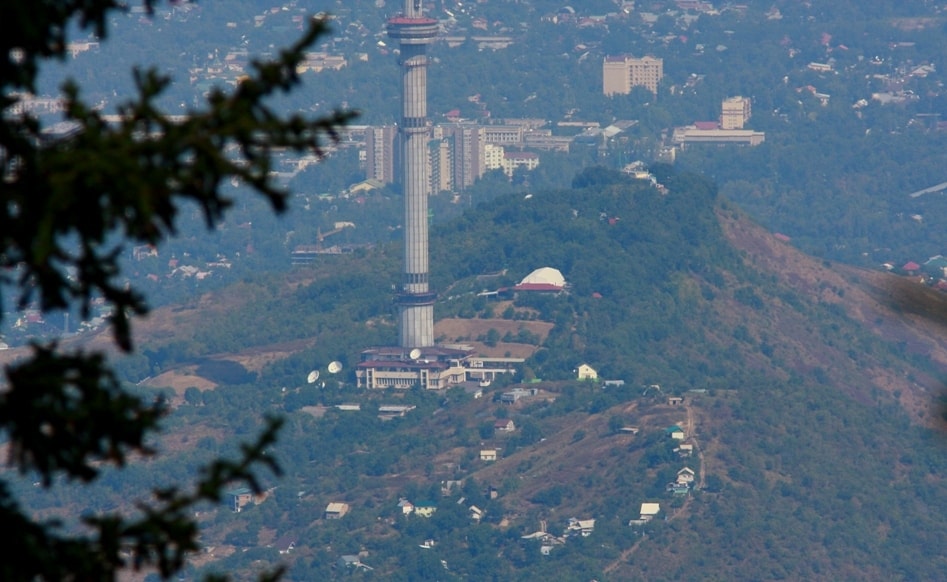 Authority:
"Zhetysu is the Land of  tourism". A Tourist Guide-book. Almaty.  2003. 68 p