Kok-Tobe cable way.
Best New Almaty Tours.
"All cities are mad: but the madness is gallant. All cities are beautiful, but the beauty is grim" 
Christopher Morley.
Experience Guided Tours in Almaty.
Kok-Tobe (the translation is Blue Hill). Kok-Tobe is situated at a height of 1050 meters above sea level. There are several ways of getting there: you can either take the cable car which links Kok-Tobe with Abai Square on Dostyk Avenue or you can drive up: head south along Dostyk, then turn east just south to the Hotel Alatau.
Kok-Tobe mountain 1070 meters above sea level (Blue mountain). With the help of cable way it is possible to get in 7 - 8 minutes Kok-Tobe mountain. Here is the viewing platform on Kok-Tobe at a height of 1130 meters above sea level.
The television tower is located on the south-eastern foothill of the mountain, the height of which is 371m. with walls of two metres thick, and it can withstand the earthquake of magnitude 10.
It is a useful landmark for tourists since it can be seen from any point in the city. The mountainsides are very sharp to 250 - 350m break off to valleys of the rivers Priamaya Shel on the east and Kazachka on the west. 
This is а hill оп one of the Alatau ridges, site of Almaty's television broadcasting tower. Kok- Tobe so called because it is covered with grass and bushes. On а clear day you can enjoy а magnificent panorama of Almaty from the viewing platform оп тор of the hill.
You can also walk up the hill along one of the little streets east of Luganskovo. There are several pleasant restaurants and cafes at the top. This cable way connects the square named after Abai and Koktobe mountain, it was built in 1967.
The length is 1672 meters above sea leve, and it has two coaches the capacity each of them is 25 persons, the speed is 22 km per hour. The end of the way is observation area which is situated at the top of Kok-Tobe.
This cable way connects the square named after Abai and Koktobe mountain.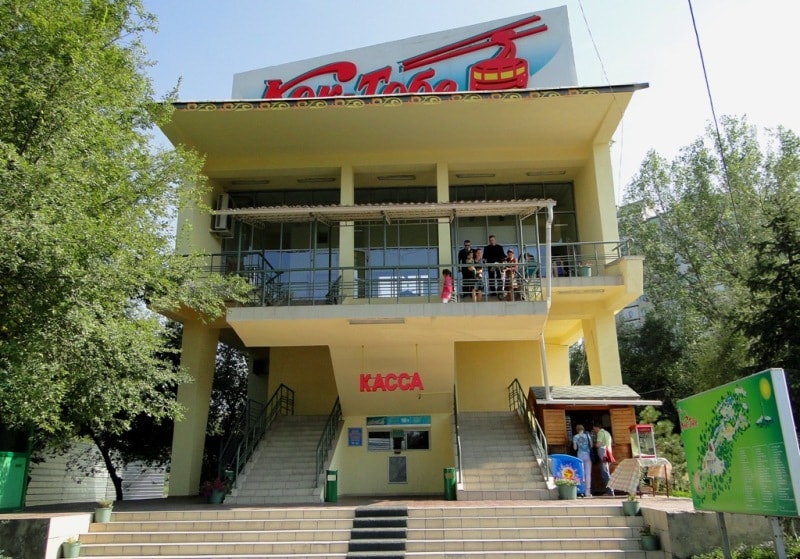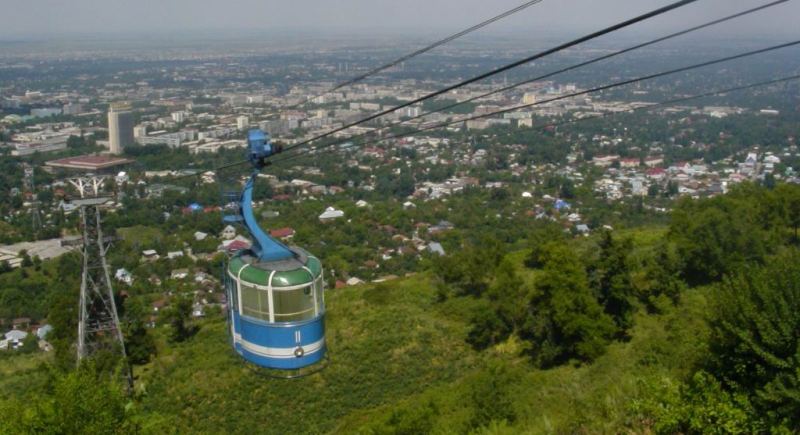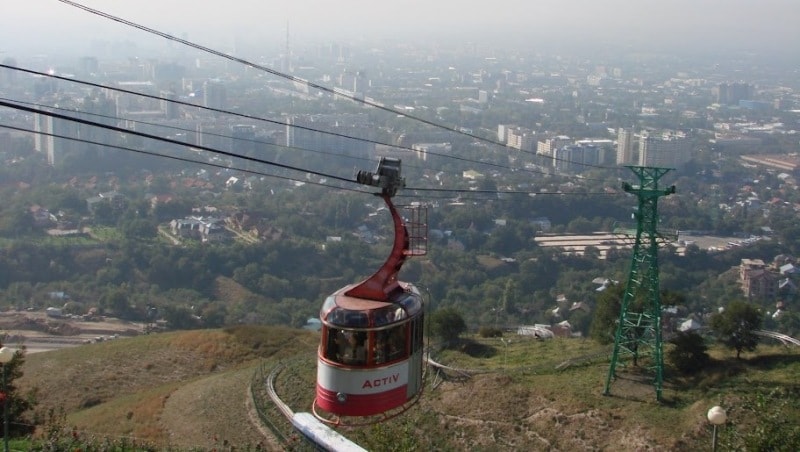 Authority:
The small part of the information is used from the book «City Vernyi and Semirechye» 2009,
Author A.G.Luhtanov. Other part of the information is collected from different sources by A.Petrov the Encyclopedia "Kazakhstan", 4 volumes, 1989. A sketch "Verigin mountain". Vladimir Proskurin. «The Alma-Ata court yard» 2009.
Alexander Petrov
photos.