Atjailoo waterfall. Alamedin gorge.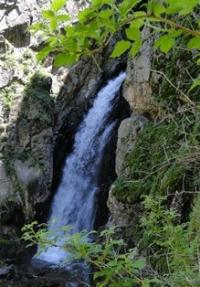 Waterfalls in mountains of Kyrgyz Ala-Too.
"No matter how hard the waterfall tries to flow up, it will still fall down."
Chinese proverb.
Walk to waterfall in Alamedin gorge.
Alamedin waterfall, located at an altitude of 2151 meters above sea level, is located in the lower reaches of the Atjailo River, on the left (eastern) slope of the Alamedin gorge on the northern slope of the Kyrgyz Ala-Too in the Alamudun district of the Chui region.
The waterfall is located 3.2 kilometers from the headwaters of the Atjailo River and 800 meters from the mouth of the Atjailoo River. The distance to the waterfall from the Teply Klyuchi health center, located at an altitude of 1761 meters above sea level on the right bank of the Alamedin River, is 6 kilometers.
One day's walk is enough to walk back and forth to the waterfall. This walk is picturesque in summer, the green dress of the gorge, combined with the fauna, gives us an unforgettable experience of contact with the wild nature.
In winter, the frozen waterfall attracts with its ice cascades inside, which the water rustles. The waterfall is frozen until mid-April. Atjailoo Falls is a stream of water that falls off a cliff. The height of the fall of water is about 10 meters; its width is up to 2 meters.
To the right of the waterfall there is a comfortable, natural platform from which you can watch the streams of the waterfall. Until the end of April, the waterfall is usually frozen, but in May there are still blocks of ice that have not melted yet.
Hikers should note that the walk to the waterfall takes, as a rule, 2 - 2.5 hours one way, the Alamedin River has to be forded three times. As a rule, at the beginning of summer, the amount of water in the river allows you to cross it over stones without even getting your feet wet, but in the summer months there is a lot of water in the river and you need to cross the river carefully.
It may be necessary to organize a rope crossing for a safe crossing of the river.
Geographic coordinates of the waterfall on the Atjailoo River: N42 ° 33'49.05 "E74 ° 39'15.19"
Authority and photos by
Alexander Petrov.