Lake Alamedin South.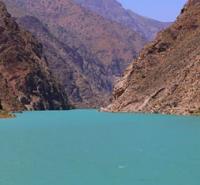 Adventure tour in mountains of Kyrgyzstan.
"In the lake, where there is a lot of food, and there are many fish; a person with a good character has many friends."
Chinese proverb.
Tours on lakes of Alamedin gorge.
Lake Alamedin South is located at an altitude of 3151 meters above sea level, located on the right, western slope of the Alamedin gorge, on the northern slope of the Kyrgyz Ala-Too ridge in the Alamudun district of the Chui region.
Lake Alamedin South is located in the upper reaches of the Ashutor River, which is the right tributary of the Alamedin River. The sources of the Ashutor river begin from the Progonny, Sovetkina glaciers and three more small glaciers located northwest of the Sovetkina glacier.
The sources of Ashutor lie at the northern end of the moraine at an altitude of 3299 meters above sea level. fter 2.6 kilometers after the source, Ashutor flows into the South Lake Alamedin. The length of the lake from the south-east to the north-west is 122 meters, the greatest width in the southern part is 41 meters.
The perimeter of the lake is 280 meters, the area reaches 3161 square meters. The lake stretches from northwest to southeast. The southern part of the lake is wider, the northern part is narrower. The lake is very picturesque, distinguished by its turquoise water color.
The water level in the lake is not constant, most likely this is due to silt erosion of underground filtration channels of the Ashutor River in the northern part of the lake. According to the marks on the stones of the previous coastal water levels, it can be assumed that the length of the lake reaches 265 meters and, accordingly, the width in the southern part of the lake reaches 70 meters.
The eastern and northeastern slopes and shores of the lake are scree, the western shore is composed of separate large stones. In the western part, on the shore of the lake, there is a huge stone. Just 180 meters to the north is Lake Alamedin North, which is much larger than Alamedin South.
Geographic coordinates of South Lake Alamedin: N42 ° 26'43.19 "E74 ° 42'06.77"
Authority and photos by
Alexander Petrov.