About Tash-Hawley Palace in Khiva.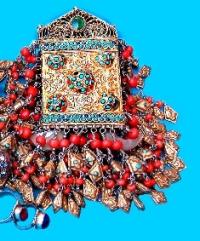 Tours on the history of ancient Khiva.
"Legends are gossip tested by time"
Valentin Domil.
Classic tourist routes in Khiva.
Tash Khauli Palace has the most luxurious interior decoration in Khiva, including ceramic tiles, stone and wood carving, and ganch. The palace built by Allakuli Khan was to become a more majestic alternative to Kunya Ark, having 150 rooms in 9 courtyards, with high ceilings for greater air access.
According to legend, Khan Allakuli was in a hurry with his project. A contemporary of Allakuli-Khan wrote that the best architects of that time were executed by his order for not completing the work in 2 years. Usto Calandar Hivagi took 8 years to do this.
Enlightener:
"Khiva City and Legends" tourist guide to Khiva.