Victory Monument in Taraz.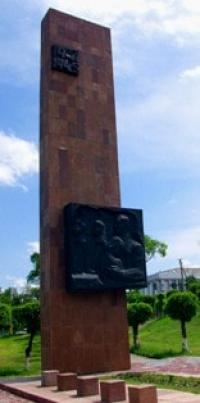 Take a guided tour in Taraz.
"An ancient burial site will always hold clues as to who the people were, and to who we are" 
Anthony T. Hincks.
Cultural Monuments in Taraz.
The monument to the Zhambyl soldiers who fell on the fronts of World War II - 1941 - 1945, is located in the city center, on the street. Suleymanova on Victory Boulevard. It was built in 1970 on the 25th anniversary of the Victory over fascism.
Sculptor S. Momyshev, artist T. Kusherbaev; architects E. Zhalmukhamedov, S. Dembay. Performed in the traditions of Soviet monumental art of the 1970s - 1980s, actively using a synthesis of architecture and sculpture.
Serves as a compositional emphasis in the development of the boulevard. The monumental vertical of the stele with a height of 15 m, mounted on a stylobate rectangular in plan, is made of concrete and faced with red Kordai granite. In front of the stele are five granite stands, symbolizing the war years.
A bas-relief is mounted on the facade of the stele; relief figures "1941 - 1945" are mounted in the upper part of the monument. On the bas-relief (0.4 x 0.6 m; 2 x 2 m) is an image of the scenes of the soldiers seeing off to the war.
The composition is decided on the contrast of the scale of the figures of the foreground and background. The sculptural elements are made using the copper drift technique.
Authority:
"Guide to Taraz and the Zhambyl region." The publication of the Department of Tourism and Sports of the Zhambyl region.