Uluchur cave.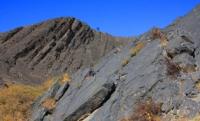 Walk on the Uluchur plateau.
"Travels teach more than anything. Sometimes one day spent in other places gives more than ten years of living at home"
France Anatole.
Uluchur cave is the deepest in Kazakhstan.
The cave mine Uluchurskaya was included in geomorphological objects of the state natural reserve fund of republican and international significance of the Turkestan region in November 2010. Uluchurskaya cave is the largest and longest in Kazakhstan, its depth is 250 meters, length 1,500 meters is located in the Tolebi district of Turkestan region.
The cave is located on the Uluchur plateau, its height is 2666 meters above sea level. The plateau is limited by the canyon of the Uluchur stream and the Uluchursky ridge with a pronounced saddle of the pass, beyond which there is the Susingen plateau.
In the west, the Uluchur plateau is limited by a sharp decrease in the valley of the Karzhantau ridge, in the north - by a sharp decrease in the valley of the Burguluk river. The plateau has two closed karst basins, in one of which is the deepest cave of Kazakhstan - Uluchurskaya.
On the Uluchur plateau, snow and lakes in karst craters are kept until the beginning of August.
Authority:
A.A. Shakalov, August 22, 1987. https://soumgan.com/forum/viewtopic.php?t=66
Photos
Alexander Petrov.