Tomb of Mukhamedzhan Seralin.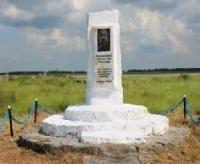 Great walking holidays in Kazakhstan.
"Literature should become a weapon of the people as formidable as lightning and simple as bread"
Georges Amadou.
Photos of Kostanay region.
The burial of Mukhamedzhan Seralin is located at an altitude of 239 meters above sea level, located in the western part of the ancient necropolis, 10 meters north of the state border between the Republic of Kazakhstan and the Russian Federation, 11.7 kilometers south and slightly west of the village of Urnek, the administrative center of Urnek rural district, 29.5 kilometers southeast of the village of Tastyozek in the Karabalyk district in the northwest of the Kostanay region.
Above the burial there is a monument with a memorial plate, which depicts a portrait of M. Seralin and the inscription "Seralin Mukhamedzhan Kazakh zhazushysy, journalist, audarmashy. 1872-1929".
The burial place of a prominent public figure of the Kazakh people of the early twentieth century, poet, journalist, teacher Mukhamedzhan Seralin in the Karabalyk region is a sacred object of regional significance.
Mukhamedzhan Seralin published the first journal in the Kazakh language "Aikap", which played an important role in the development of Kazakh written literature. During the years of Soviet power, he worked in the editorial offices of various publications.
Mukhamedzhan Seralin spent the last years of his life in his native village, did a lot for its improvement, worked as a teacher, and was engaged in the creation of a library. He died in May 1929 and was buried near the village of Urnek.
In 2021, the burial place of M. Seralin was ennobled. The territory of the burial was replanned and increased to 60 square meters. The monument has become higher due to the construction of three square steps that encircle the memorial stele.
Paving slabs have been laid throughout the burial site. The grave is fenced with a new metal fence, in front of the monument, an open book with text is installed on a stand. Benches were installed along the fence, the territory of the grave was paved with paving slabs.
The grave of Mukhamedzhan Seralin is included in the list of sacred objects of the Kostanay region. A memorial plaque was installed on the building of one of the schools in the village of Ornek, and a memorial museum named after Mukhamedzhan Seralin was created in the school itself.
There is also a memorial plaque on the building of school No. 21, which is located on Seralina Street in the city of Kostanay.
Geographical coordinates of grave of Mukhamedjan Seralin: N53°13'27.09" E61°30'22.07"
Authority and photos:
https://kraeved-kst.kz/int-map/ru.php
http://www.tarih-begalinka.kz/ru/history/revolution/figures/seralin/