Stele "Ush Niza" in Yereymentau.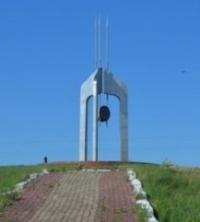 Tour list in Kazakhstan.  
"If your friend becomes an enemy to you, then love him so that the tree of friendship, love and trust blossoms again, wilted because he was not watered with water of friendship and did not care for him"
As-Samarkandi Muhammad ibn Ali.
Hiking routes in Akmola region.
In 2009 prior to the establishing of a monument to Bogenbai batyr in Yereimentau city and according to the suggestion of the head of the administration the soil from the burial site in Hodzha Ahmet Yassaui mausoleum in Turkestan as well as the «Үш найза» monuments sign installed in 1991 (dedicated to Bogenbai batyr), was placed in a capsule in order to establish a future monument.
Delivery of the soil from the burial place of Bogenbai batyr was entrusted to his descendants. At the time when the issue of delivery of the soil was being resolved, Daiyr Zhumabekov discovered the tombstone was disappeared, so he immediately makes a new one of granite and installs it at this place.
Bogenbai batyr monument sign: Bogenbai batyr monument sign has been installed on a hill at the entrance to the Yereimentau city. It presented a metal structure clothed with galvanized sheets. Its contour is clearly visible against the sky, creating a vertical accent in the steppe area.
The centric composition of three parts with peaks directed upwards and shields suspended from them symbolizes the unification of three zhuz under one dome. The monument sign is made of stainless steel.  There are following inscriptions on the shields combining the three peaks:
«Қорған болған еліме, айбар болған жеріме, қойылды бұл ескерткіш бұрын Бөгенбайдай еріме»- from the flows of the XX century. The authors of the Bogenbai batyr monument sign: Moh Yakov, Tikhonov Nikolay, Prishchepin Yurii.
Authority and photos:
http://srh.kz/content/kompleks-obyektov-svyazannyh-s-imenem-bogenbaya-batyra-mesto-zahoronen/