Grave of Mariam Rekina.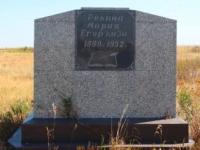 Traveling from Astana to Bukhara.
"The word shall not abide.
There is a secret of two, but no secret of three
And everyone knows the mystery of four"
Firdousi Abulkasim.
Trip from Astana to Korgalzhyn.
The burial place of Mariam Rekina (Egorovna) is located at an altitude of 345 meters above sea level, located in the western part of the ancient necropolis, 2.8 kilometers east of the right bank of the Nur, 8.5 kilometers northwest of the village of Kenbidaik, 8 .7 kilometers south and slightly west of the village of Sabyndy, 12.5 kilometers southeast of the village of Karaegin in Korgalzhynsky district of Akmola region.
 There is a story about the daughter of Russian immigrants, who fell in love with the Kazakh dzhigit Duysen. But customs prevented the happiness of the young. Time does not stand still, and now Mary's parents are waiting for matchmakers from a neighboring village.
Upon learning this, Mary escapes to the steppe, where, according to legend, the famous song of recognition was born, the crying song "Dudarai" - that is what Maria called her Duysen. He soon went after her to the steppe, which became their home.
They suffered hardships, lived by the river, found shelter in the coastal reeds. And the heart of Duisen's parents quivered. The young were returned home, they played a wedding. So love triumphed, its strength helped the young to resist everything.
But their happiness was fleeting. Soon after the wedding, Duisen was drafted into the royal army, where he was struck by consumption. A tall, handsome handsome man died. And the inconsolable widow was only 18 years old ...
Time has passed. Maria married another, gave birth to four children. Her husband was a good man, with a good heart, and loved her very much. Warmly, respectful to him and Mariam, preserving the memory of Duysen in a secret corner of the heart.
Mariam-apai spent most of her life in the village of Kenbidaik in the Korgalzhyn district. Young musicians, singers, akyns to this day visit the place of her last refuge to adopt the vocal talent of Maria Rekina. Maria Egorovna Rekina was born in 1899. During the Great Patriotic War, Mariam-apai devoted her poems to fellow countrymen who went to the front. After the war, she was awarded the title "Honored Artist of the Kazakh SSR." The poem "Dudarai" is imbued with love, warmth and the spirit of friendship of people of different nationalities.
The tombstone installed in 1962 was updated at the initiative of the director of the local school. And in 2011, a local entrepreneur, Serik Rakhymbekov, installed a marble slab on the grave of Maria Egorovna at his own expense.
Geographic coordinates of  burial place of Mariam Rekiny: N50°48'02.47" E70°32'38.48"
Authority and photos by:
Local historian Myrzadedelov Kudaibergen. History of Kazakh literature Alma-Ata, 1968. Passport of the monument 1979, Materials for the study of historical and cultural monuments of the Akmola region by the Department of the Code of Scientific and Practical Research of the Republican State Enterprise "Kazrestavratsiya", 2006 G.M. Kamalova. http://srh.kz/content/mesto-zahoroneniya-mariyam-rekiny-egorovny/
https://kazpravda.kz/n/serenada-solnechnoy-stepi/