Shopping center in Mary.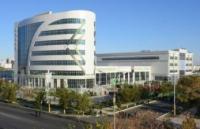 Walk across Mary.
Shopping tour in Turkmenistan.
In the city of Mary the trade business center of SPP of Turkmenistan is open.
It includes the 4th floor shopping center which became the biggest in the city, the 7th the floor building of the business center and the wedding hall of "Toy mekana".
In the business center among others, the Mary office of Rysgal bank was placed.
Construction of shopping center was carried out by the Esis Dag company.
In shopping center shops, a supermarket, cafe with restaurants, a game zone were placed.
Authority:
http://asgabat.net/novosti/v-mary-otkrylsja-novyi-torgovo-delovoi-i-razvlekatelnyi-centr.html