Sculptures of Alley of fairy tales in Astana.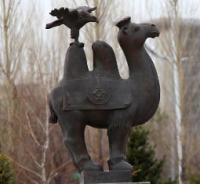 Photo tours in Astana.
"In knowledge is greatness and beauty,
Knowledge is more expensive than a treasure of pearls:
Any time will destroy the treasure
The wise and knowledgeable is forever needed."
As-Samarkandi Muhammad ibn Ali.
Photos of Astana.
Sculptures on the Fairy Tales Alley - a group of decorative sculptural forms located near the fountain with the circus performer of the same name in the city Astana. Among the sea of ​​flowers and benches you can meet the key characters of Turkic myths and legends made of bronze:
The famous Aldar Jose with a dombra on the Alley of Fairy Tales in Astana.
Khoja Nasreddin on the Alley of Fairy Tales in Astana.
Scythe - girlish beauty - a sculpture on the Fairy Tale Alley in Astana and others.
Authority:
http://reactor.inform.kz/samye-interesnye-pamyatniki-astany-a3656
Photos by
Alexander Petrov.