Monument "Astana Zhuldyz".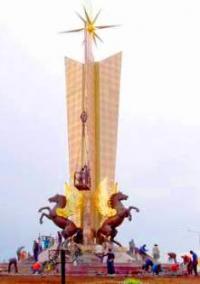 Travel to Kazakhstan.
"Only human consciousness can overcome the path from the diversity of things to Oneness. It ascends and descends, descends and ascends, linking these two extremes of the manifestation of life."
Delia Steinberg Guzman.
Tourist trips around Astana.
The "Astana Zhuldyz" monument is a forty-meter golden stele with three bronze tulpars at the foot. The horses rose at the fork of three roads, the road to Nur-Sultan, the highway leading to the international airport of the capital of Kazakhstan and the third road - a bypass to Karaganda.
The authors of the monument are Nartov A., Bokeby S., Fleishman Yu, Svistunov A. The monument is made of bronze, metal, gold leaf, marble. Opening date - August 6, 2007. The stela itself, directed upwards, means a breakthrough forward, a rapid movement towards the stars.
The monument is crowned with a "wind rose" - a symbol of the search for the life path of the peoples of the world. In ancient times, orientation by the stars in the steppe meant one thing - life. Nowadays, finding your guiding star is also important.
The star symbol is a symbol universal for all peoples living on earth, regardless of religion, nationality or culture. Both the star and the wings of the tulpars are covered with gold leaf.
Authority:
http://kazneb.kz/FileStore/dataFiles/0e/9c/1177773/content/full.pdf?time=1514570244229&key=378f3eca146ce6aaf53db8ea2d89ab46&isPortal=true