Saint of tomb Uzun ata.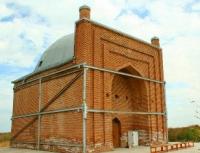 Small Group Tours in Turkestan.
"History repeats itself until we remember it"
Alexander Minchenkov.
This tour combines our walking tour in Shymkent.
Mazar Uzun ata dates back to the XIXth century, located 1.8 kilometers from the left (western) bank of the Sardarya River, 7.7 kilometers to the north and slightly east of the village of Uzun Ata (formerly Komsomolskoye), 25.3 kilometers to the south and slightly to the west from the village of Syutkent in the Shardara district of the Turkestan region. 
Previously, the Saint of the tomb was in an open area, at this time it is located in a thicket of reeds, among rice fields. Saint of the tomb Uzun ata is presented as a portal-domed building with a square room. The dome rests on an 8-sided drum. In the transition from the straight planes of the walls to the spherical volumes of the ceiling, bricks of enlarged dimensions were used.
The pylons of the portal are hollow. In the eastern part of the Saint of the tomb there is a spiral staircase leading to the roof, at the base of the western part of the Saint of the tomb there is a small room covered by a vault.
The front surface of the portal is decorated with a U-shaped frame. Flank the portal 2 cylindrical turrets on the ends of the parapet. In the niche of the portal there is ceramic tile with an Arabic inscription informing that a certain Shirmuhammed Halim, the son of Datura, who died in 778 (1377), is buried here.
In the center of the Saint of the tomb, a 5-meter-long sagana was installed, which probably later defined the name of the Saint of the tomb, "Uzun ata," that is, "Long Great-Grandfather". The Saint of the tomb is made of square burnt bricks on clay mortar.
Geographic coordinates of Uzun ata saint tomb: N41 ° 44'07.87 "E67 ° 59'29.73"
Authority:
D. A. Taleev. "Code of monuments of the South Kazakhstan region." Architectural and archaeological heritage of the South Kazakhstan region. In the framework of the regional program "Cultural Heritage". http://www.farsah.kz