River Aksu in Kazakhstan.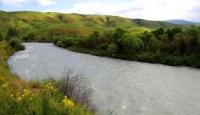 Silk Road tours Kazakhstan and Uzbekistan.
"The journey of a thousand miles begins with a single step" 
Lao Tzu.
Tours to Taraz.
The river Aksu flows in Chuy Region the Kyrgyz Respublik and the Jambyl region of Kazakhstan. Length of the river is 155 kilometers, the area of a reservoir is 483 kilometers of square.
The river Aksu of 7 inflows with a total length of 70 kilometers, forms 77 lakes of 4,21 kilometer square. The river begins on northern slopes of the Kyrgyz Ala-Too flows into the Tasotkel reservoir.
River food snow and glacial. An average annual consumption of water at the village of Chonaryk of 4,74 kilometers cubic in a second.
Water is poorly mineralized to 130 mg on 1 liter., soft it is suitable for drink and the technical purposes.
Authority:
Short encyclopedia Kazakh SSR, volume 2, Nature, Alma-Ata, 1990.
Photos by
Alexander Petrov.