Rest house in Turkestan.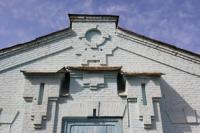 Tourist routes of Turkestan.
"For everything in this journey of life we are on, there is a right wing and a left wing: for the wing of love there is anger; for the wing of destiny there is fear; for the wing of pain there is healing; for the wing of hurt there is forgiveness; for the wing of pride there is humility; for the wing of giving there is taking; for the wing of tears there is joy; for the wing of rejection there is acceptance; for the wing of judgment there is grace; for the wing of honor there is shame; for the wing of letting go there is the wing of keeping. We can only fly with two wings and two wings can only stay in the air if there is a balance. Two beautiful wings is perfection. There is a generation of people who idealize perfection as the existence of only one of these wings every time. But I see that a bird with one wing is imperfect. An angel with one wing is imperfect. A butterfly with one wing is dead. So this generation of people strive to always cut off the other wing in the hopes of embodying their ideal of perfection, and in doing so, have created a crippled race" 
C. JoyBell C.
Trip to Turkestan from Mangyshlak.
The rest house of locomotive railway crews in Turkestan, is constructed in 1903. Is on the line of a frontal of the street near the station. It is constructed in with station buildings of the railway station of Turkestan. Walls are whitewashed.
Building volume, rectangular in the tire, has 3 axial projections on the main facade and one angular from the domestic party which forms the G-shaped plan. Projections of a main  facade come to the end with parapets and are issued by dual shovels on corners.
Window openings with artly executed crossing points with the fan lock, are united in a part by wide draft. Inside system of planning. In a part, at an entrance, office rooms. Spacious restrooms are arranged on both sides of the extended corridor lit from above 2 light.
Authority:
Arch of historical and cultural monuments of Kazakhstan. Southern Kazakhstan area. Volume 1. Alma-Ata. Main editorial office "Kazakh of an Entsiklopediyasa", 1994. Author of article E.G. Malinovskaya.
Photos
Alexander Petrov.