Palaces in Akmed Yassavi mausoleum.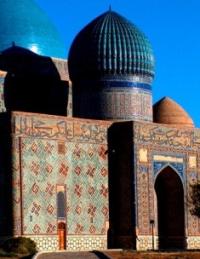 Sacral tour to Turkestan.
 "If an ancient man saw planes two thousand years ago 
He would've thought they were birds 
Or angels from another world 
Or messengers from other planets" 
Dejan Stojanovic.
Travel across the Southern Kazakhstan.
Palaces, big and small, represent dvusvetny halls. In the XVI - XVIII centuries when in the city of Turkestan there was a residence of the Kazakh khans of the Senior and Average zhuz, they were used as palace rooms.
The small palace - the room where for six hundred years buried the most dear people. In total here 43 tombstones. The oldest burial of 1431, the latest - 1917. The big palace - it the unique palace room originally intended for gathering of dervishes, meetings of religious communities. In the hall diplomatic receptions, military negotiations, meetings of the feudal nobility were held.
There are a hansky chair and a scepter. On an entrance to the room of the big palace it is possible to see a tombstone of the famous Kazakh governor Abylay of the khan who died in 1781.
Authority:
https://ru.wikipedia.org
Photos
Alexander Petrov.