Pusyrmanbay Mausoleum.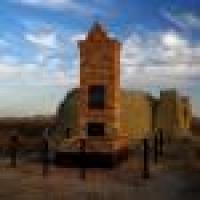 Adventures in Kazakhstan.
"For Muslims, my hikmets will be a teacher
Whoever it is should worship God
My hikmets, speak only to those who understand.
Praising with prayers, immerse yourself in the mercy of Allah"
"Hikmets" by Khoja Ahmed Yassavi.
Free independent traveler in Kazakhstan.
The Pusyrmanbay mausoleum is located on the territory of the Psurman burial ground, on the eastern bank of the Karaaryk canal, on an elevation of 66.7 meters above sea level, 5.4 kilometers south of the village of Zhanakurylys and 20.8 kilometers to the east slightly south of the village of Karateren in the Aral region of Kyzylorda area.
The monument dates back to the XIXth century.
Geographic coordinates of the Pusyrmanbay mausoleum: N45 ° 57'39.85 "E61 ° 19'11.69"
Authority:
Alexander Petrov.